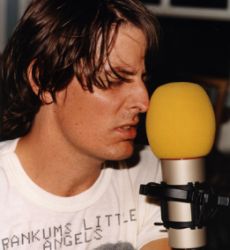 Pitchfork Media recently reported that Drunkard hero, Portland inhabitant, and indie rock guru, Stephen Malkmus is two-thirds done with his next LP (to be released by longtime label home, Matador).
According to his website: "Basic trax for album committed to tape. 67.4685% completed. Looks to be done sometime in Late June." "Tj Doherty, fresh from a Donald Fagen session in Kauai, kept an eye on the meters. The bears were just coming out of Hibernation; it was easy to stay indoors and focus on the riffage. Looks to be done sometime in Late June. Apparently, the songs are so BIG that Matador is pushing for an early 2008 release." Awesome news — bring on the rock show.
Speaking of Steve, while DJ'ing the other night I snuck in a track from the Pig Lib limited edition import bonus EP. Now I realize it's easy to sit here at a computer and play armchair quarterback, but as a fan of all Malkmus projects, I, like many, were a bit perplexed that some of the best of Pig Lib's material was omitted from the album, shelved, and only included on the bonus EP. But alas, I'm sure SM had his reasons. If you have not heard the Pig Lib EP (aka Dark Wave EP), gnaw on a couple of my favorite tracks below.
Download:
MP3: Stephen Malkmus & The Jicks :: Fractions and Feelings
MP3: Stephen Malkmus & The Jicks :: Old Jerry
—
Video: Stephen Malkmus :: Jenny & The Ess Dog (Live on David Letterman)
Video: Pavement :: Grounded (Live)
———
Amazon: Stephen Malkmus & The Jicks – Pig Lib (w/ import Bonus EP)
www.stephenmalkmus.com ++ www.myspace.com/stephenmalkmus ++ www.matador.com
+ Download Malkmus tunes via eMusic's 25 free MP3 no risk trial offer
––––––––––––––––––––––––––––––––––––––––––—
+ Visit The Hype Machine for additional Stephen Malkmus MP3s