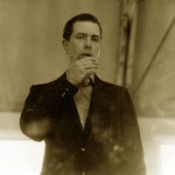 Bill Callahan's new LP Woke on a Whaleheart has been heavily anticipated around these parts since we first heard the "Diamond Dancer" single back in February.
Because of this I was fairly bummed to have missed Callahan's SXSW performance at the Central Presbyterian Church accompanied by Joanna Newsom. Alas, with SXSW, ya can't see 'em all.
Forgoing the long held SMOG moniker in favor of his given name, Callahan returns here, on Whaleheart, immediately disarming the listener with his voice. That voice which is at times a weatherbeaten nod to Lou Reed, yet impossibly, and distinctly, his own. The album is both a new beginning for artist and fan alike, and a new chapter in the growing SMOG/Callahan oeuvre.
Previously: Bill Callahan :: The Artist Formerly Known As Smog
Download:
MP3: Bill Callahan :: Diamond Dancer
———
Amazon: Bill Callahan – Woke on a Whaleheart
www.myspace.com/toomuchtolove ++ www.dragcity.com ++ smog on emusic
+ Smog catalog available through eMusic's 25 Free MP3 trial offer.
———————————————————————————————————————————
+ Visit The Hype Machine for additional Smog MP3s.