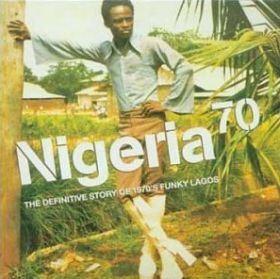 I've been a total freak the past twelve months for foreign artists, often from the "third world" — during the sixties and seventies — playing original music as processed through a distinctly American filter. A number of the best finds have been on various compilations, both in and out of print, meticulously put together by obvious music fanatics. It's really easy to get caught up in these.
The backstory is typically the same, no matter if the artists in question are from Ethiopia, Lagos, or South America: American Folk, Soul, Rock & Roll, Jazz and R&B are heard through the radio and assimilated into the indigenous culture's existing musical framework and fabric creating an altogether unique sound.
Lately the compilation that has caught and held my attention is Nigeria 70: The Definitive Story of 1970's Funky Lagos. I could easily devote a dozen posts on the Drunkard strictly devoted to the various artists and songs featured throughout the comp. Maybe one day I will, but today have a listen to Bongos Ikwue's "Woman Made The Devil." If you're anything like me, this will be be on repeat.
Download:
MP3: Bongos Ikwue :: Woman Made The Devil
——
Amazon: Nigeria 70: The Definitive Story of 1970's Funky Lagos
+ Check out tunes via the always impressive eMusic: 25 Free MP3 trial offer.
———————————————————————————————————————————
+ Visit The Hype Machine for additional MP3s.