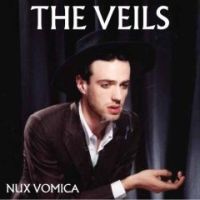 With Nick Cave busy with his brash, almost Birthday Party like, side group, Grinderman, The Veils album Nux Vomica could not have happened at a better time. Obvious Cave comparisons aside, The Veils leader, Finn Andrews, writes and performs sharp, literate story songs set against brooding and atmospheric pop instrumentation, thus creating a real mood piece throughout the course of the LP.

"Everybody thinks the end is near, how am I to tell the difference?" Finns croons on "The Birthday Present" summing up the general motif of the LP — questioning, frustrated, and seemingly teetering on the edge of an emotional abyss. Not unlike the Bad Seeds, The Veils are able to walk the line somewhere between desperation and romantic noir.   A line so thin that in less capable hands comes off as banal, boring and amateur.   Not at all the case here.
Highly recommended to those who appreciate solid, at times melodramatic, passionate songwriting. And of course, all you Nick Cave fans.
Elsewhere: The Veils' Finn Andrews: Sixeyes Interview

Download:
MP3: The Veils :: Jesus For The Jugular
MP3: The Veils :: Advice For Young Mothers To Be
———–
Amazon: The Veils – Nux Vomica
www.theveils.com ++ www.myspace.com/theveils ++ more veils mp3s
+ Download The Veils via eMusic's 25 free MP3 no risk trial offer
––––––––––––––––––––––––––––––––––––––––––—
+ Visit The Hype Machine for additional Veils MP3s