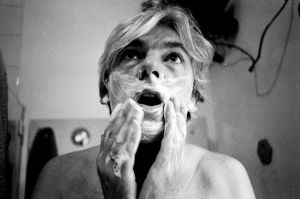 I'm still loving Robyn Hitchcock's 2006 album with the Venus 3, Ole Tarantula, but seeing him play semi-acoustic this Spring called for a re-visitation of his stark, southern gothic tinged 2004 LP Spooked.
Spooked found Hitchcock in Nashville, TN teamed up with the excellent bare boned folk duo that is made up of Gillian Welch and David Rawlings. Hitchcock, who has long proved himself comfortable (and capable) working within a variety of genres, be it punk, post-punk, new wave, or rock & roll, eases things back here, soaking up, interpreting, and adding his own stamp to the sounds the city has fostered over the past 75 years.
As on Ryan Adams 2000 solo debut, Heartbreaker, Welch and Rawlings play the perfect grounding foil to Hitchcock's legendary quirkiness, delivering the goods in terms of production, accompaniment, and composition. For Hitchcock fans the album excels in adding a layer to the kind of pastoral folk the artist has experimented with on past efforts. The length of the LP is a mysterious bouillabaisse of banjo, acoustic slide guitar and Wurlitzer that feels like a Sunday back porch jam session.
Download:
MP3: Robyn Hitchcock :: Sometimes A Blonde
MP3: Robyn Hitchcock :: Television
——–
Amazon: Robyn Hitchcock – Spooked
www.robynhitchcock.com ++ www.myspace.com/robynhitchcock ++ emusic ++ more mp3s
+ Robyn Hitchcock available through eMusic's 25 Free MP3 offer.
——————————————————————————————————————————-
+ Visit The Hype Machine for additional MP3s.