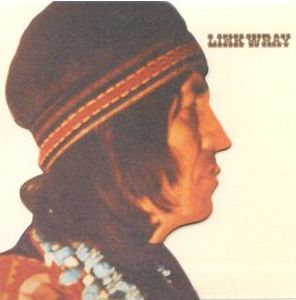 Not surprisingly (because the tune is the absolute shit) a bunch of folks enquired as to the name/origins of the Link Wray song that opened up yesterday's show on Little Radio (for those who missed it, it will be posted in podcast form later this week.)
The track is "La De Da" off Link Wray's self-titled 1971 album, which I featured back in August here. Make no mistake, this is not Wray in instrumental surf-guitar mode, but the man handling all the vocals, belting out greasy, back-porch, rock & roll gospel-blues. Simply outstanding stuff.
From the HIP-O website: "Link Wray's Polydor debut from 1971 sounds kinda like The Band meets The Rolling Stones, with a healthy side of Van Morrison playing gospel blues somewhere in the Mississippi Delta. Recorded in his converted chicken coop studio, Wray took a breather from his earlier electric guitar instrumentals to lay down a raw and intense album. The album was remastered from the original master tapes in 2004 by the Grammy-winning engineer Gavin Lurssen, and it comes in a die-cut gatefold package that replicates the original vinyl release."
Don't miss out on there — Check out two tracks below from the re-issue…
Download:
MP3: Link Wray :: La De Da
MP3: Link Wray :: Fire And Brimstone
———-
Purchase: Link Wray – S/T
Hip-O Select ++ official link wray website ++ more link wray mp3s ++ emusic
+ Download tunes through eMusic's 25 Free MP3 offer.
——————————————————————————————————————————-
+ Visit The Hype Machine for additional Link Wray MP3s.