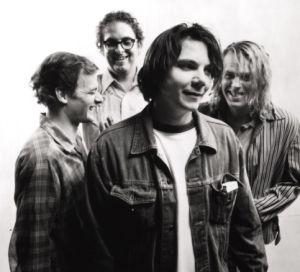 Ye olde Aquarium Drunkard turned two today. Despite what the archives state (I merged the May 2005 data with the June posts a year and a half ago) this is the 1,463 post since May of 2005.
It's only fitting that Wilco have a new album coming out next week, as Yankee Hotel Foxtrot's "I Am Trying To Break Your Heart" loosely served as the inspiration for the blog's name: "I am an American aquarium drinker, I assassin down the avenue, I'm hiding out in the big city blinking, What was I thinking when I let go of you?" This is singlehandedly the question I receive the most often from readers, so if you ever wondered, there you have it.
With its internal struggles, considerable experimentation, label woes, and well documented drama, in many ways, YHF stands as the major turning point for the band. But back in the mid '90s, longtime Uncle Tupelo fans, and recent converts of Tweedy's 'new' project Wilco, bared witness to another turning point — that of the first track on disc one off Wilco's sophomore album Being There.
With it's decidedly non alt.country atmosphere and instrumentation, "Misunderstood" would turn out to be an outlier beacon of things to come on future Wilco projects. It also happens to be my favorite track off the album.
Elsewhere: Read Pitchfork Media's interview with Wilco's Jeff Tweedy

Download:
MP3: Wilco :: Misunderstood
—
Video: Wilco :: I Am Trying To Break Your Heart (DVD Opening Credits)
Video: Wilco :: I'm Always In Love
——-
Amazon: Wilco – Being There
www.wilcoworld.net ++ www.myspace.com/wilco ++ www.wilcobase.com
+ Download tunes via eMusic's 25 Free MP3 offer.
——————————————————————————————————————————-
+ Visit The Hype Machine for additional Wilco MP3s.