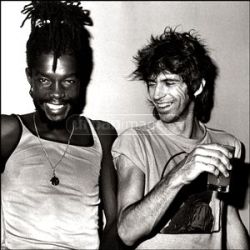 I have no idea if the following (urban) legend, regarding Peter Tosh, is true, and it really doesn't matter, because even if pure myth, it illustrates my point either way.
The story goes that Peter Tosh's relationship with The Rolling Stones soured. both professionally and personally, due to Tosh's refusal to leave Keith Richards' Jamaican home after crashing there with an entourage, for months on end, while the British guitarist was away on tour.
Allegedly when Richards got "tough" and demanded Tosh and company pack it up, Tosh pulled a gun on Richards to prove his point that he had no intention on leaving. Exit one Keith Richards.
Like I said, I have no clue if such a story is true, half true, or utter rubbish, but it goes to show that Tosh cultivated a persona of one nots to be fucked with. Whether through his lyrics, his troubles with the government, police beatings, very candid interviews, and ultimate murder, Tosh lived his life on the edge garnering himself the nickname "steppin' razor."
While he did not write the tune that became his namesake (that distinction goes to Jamaican artist Joe Higgs) the song was made popular by the Tosh's original band with Marley, The Wailers, and of course later recorded by Tosh himself on the Equal Rights LP.
That being said, I've always felt knowing the background of Tosh's life added an extra punch to the lyrics, even if the track does begin with that super-dated '70s electric guitar opener.
Download:
MP3: Peter Tosh :: Steppin' Razor
———
Amazon: Peter Tosh – Equal Rights
+ Download tunes through eMusic's 25 Free MP3 offer.
——————————————————————————————————————————-
+ Visit The Hype Machine for additional Peter Tosh MP3s.