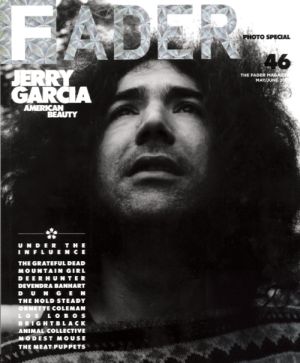 The upcoming issue of the hipster music rag Fader explores something I have discussed several times on these pages in the past: the vast, popular, misconception of Jerry Garcia and the legacy of the Grateful Dead. I have long believed them to be one of the more misunderstood groups of the past 40 years, whose music and image is sadly enshrouded in tye-dye, dancing bears, and a few tunes on 'classic rock' radio. Peel back the bullshit and you'll find an unexpected trove of brilliance.
"Their music touches on ground that most other groups don't even know exists." — Lenny Kaye
The band, and it's reluctant leader, have been profiled, both on and offline, numbering in the thousands, so why is the Fader coverage worth noting? Because of it's reach. Having Garcia grace the cover of the magazines third annual "Icons" issue can, and will, introduce the band to an audience either to young, or too close-minded, to care in the past. The Dead's influence, whether direct or indirect, can be heard on half of the "indie", "experimental" albums that are being regarded as so fresh and groundbreaking today. Whether it's Animal Collective or Comets On Fire, the Dead tread in those steps long before. Be it folk, country, bluegrass, electronic (yes), rock & roll, jazz or noise rock the Grateful Dead and Garcia's solo work explored it all and then some.
Via Media Bistro: "There are so many misconceptions and prejudices regarding Jerry and his legacy," says editor Alex Wagner. "We wanted to dig deep and show our readers that he's an incredibly relevant and inspiring figure – an honest to goodness rock star who very much deserves his place in the canon of modern music."
The issue will reportedly feature in depth interviews with bandmates, insiders, contemporaries, as well as those whose music has been influenced by the band.

Download:
MP3: Jerry Garcia :: That's What Love Will Make You Do (San Francisco, 1976)
MP3: Jerry Garcia Band :: Don't Let Go (San Francisco, 1976)
MP3: Jerry Garcia Band :: Mission In The Rain (San Francisco, 1976)
—
Video: Grateful Dead :: Mountains Of The Moon (Live 1969 – Playboy After Dark)
Video: Grateful Dead :: St. Stephen (Live 1969 – Playboy After Dark)
Video: Jerry Garcia & Bob Weir :: Interview (1987 on David Letterman)
————
Fader 46 DJ Mix: MP3
Available on Newsstands and iTunes: Podcast Here
Amazon: Jerry Garcia Band – Don't Let Go (Orpheum Theatre, SF 1976)
www.dead.net ++ www.jerrygarcia.com ++ grateful dead on archive.org ++ emusic
+ Download tunes through eMusic's 25 Free MP3 offer.
——————————————————————————————————————————-
+ Visit The Hype Machine for additional Grateful Dead MP3s.