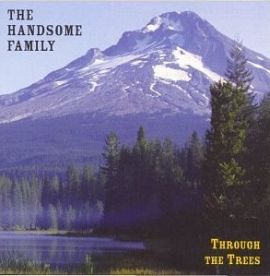 "This is why people OD on pills — and jump — from the Golden Gate Bridge. Anything to feel weightless again…" — The Handsome Family
The Handsome Family's third album, 1998's Through The Trees, is an essential, Americana, genre classic. The music of the husband and wife duo, Brett and Rennie Sparks, hovers in a sphere somewhere between traditional folk and the more experimental leanings of alt.country. When it comes to murder ballads, there is no one I would rather hear sing them. They own their material in a way that comes across so real and potent, it's as if they had lived out every story and scenario illuminated by their lyrics.
While the music itself may sound as if culled from another time, the stories within the songs themselves take place in our world, or a quasi Lynchian world not too far off, with it's characters mundane lives transformed into Faulkner-like tragedies.
To get an idea, listen to "Weightless Again," my favorite track off Through The Trees. A song about the redwood forest, coffee, and suicide.

Elsewhere: Onion A.V. Club's 2006 Interview with Brett and Rennie Sparks of The Handsome Family

Download:
MP3: The Handsome Family :: Weightless Again
——
Amazon: The Handsome Family – Through The Trees

www.handsomefamily.com ++ www.myspace.com/thehandsomefamily ++ emusic

+ Download The Handsome Family at eMusic with their 25 free mp3 offer
—————————————————————————————————————————–
+ Explore more of The Handsome Family via The Hype Machine