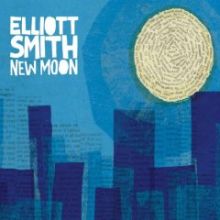 Sunday afternoon, I had a chance to pick up the new two disc, posthumous, Elliott Smith release New Moon, and, as expected, it is comprised of excellent material. Unlike 2004's From A Basement On A Hill, New Moon is culled from Smith's early-mid '90s lo-fi material that did not make the proper albums of the era.
Compiled by Smith's friend and producer, Larry Crane, the set truly feels as if it's an Elliott album, and not a random, haphazard, collection of tracks. Such cohesion is a rarity in most cases with projects of a similar nature.
Crane's technical notes: "Except for the special case of "New Disaster", where independent instrumental and vocal takes were combined, all songs are presented as tracked by Elliott, and every effort was made to check stereo placement, track levels, editing ideas, arrangement ideas and the overall feel that were present in his rough (or released) mixes. In many cases remixing was simply an attempt to make the elements of the song slightly more legible, and in other cases to reduce the background tape hiss. In no way is this album simply a product of the studio in 2006 – it is a collection of songs, any of which could have easily been included on his albums of 1995 or 1997."
Download:
MP3: Elliott Smith :: Angel In The Snow
MP3: Elliott Smith :: Thirteen (Big Star cover)
—
Video: Elliott Smith :: Interview with Janeane Garofalo
——-
Amazon: Elliott Smith – New Moon
www.sweetadeline.net ++ www.myspace.com/elliottsmithnewmoon ++ www.killrockstars.com
+ Download Elliott Smith through eMusic's 25 Free MP3 offer.
———————————————————————————————————————-
+ Visit The Hype Machine for additional Elliott Smith MP3s.