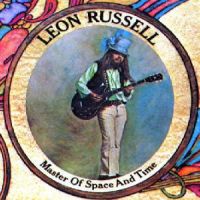 While Stop All That Jazz may not be Leon Russell's best album, it is the first Leon Russell album I heard outside of his work on Joe Cocker's Mad Dogs & Englishmen (which was my fathers all-time favorite rock & roll album).
Being the shit-hot session man — and bandleader — that he was, Russell's own work has unfortunately, but understandably, taken a backseat to his work with his famous peers (insert your sixties-seventies recording legend here).
His early career albums are stellar from top-to-bottom, and deserve a post of their own in the future; but in the meantime, listen to Russell's version of the oft-covered "If I Were A Carpenter" off the aforementioned 1974 LP Stop All That Jazz. It's just dripping with that Oklahoma soul only Leon can deliver. The (intentionally?) corny production makes it that much sweeter.
FYI: I just climbed through several boxes in storage to dig this one out. Hope some of ya'll are down with mister Leon.

Video: Leon Russell @ The concert for Bangladesh – August 1, 1971

Download:
MP3: Leon Russell :: If I Were A Carpenter
———
Amazon: Leon Russell – Stop All That Jazz
www.leonrussellrecords.com ++ myspace ++ more leon russell mp3s ++ emusic
+ Download tunes through eMusic's 25 Free MP3 offer.
————————————————————————————————————————-
+ Visit The Hype Machine for additional Leon Russell MP3s.