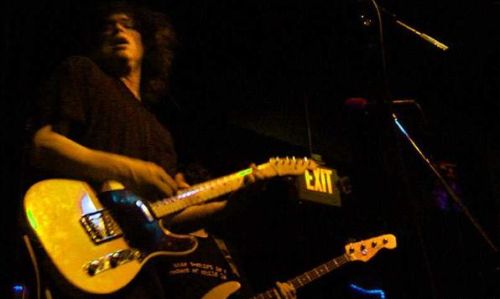 It's no mystery I am a longtime fan of the music of Daniel Hutchens and his band Bloodkin, with Eric Carter. I put their catalog right up there with the likes of Townes Van Zandt, Alejandro Escovedo and Steve Earle in terms of truly capturing the nuances of humanity, both the light and the dark, in song.
Last fall my micro-label Autumn Tone released Hutchens latest LP, Lovesongs For Losers, a sheer testament to my love of his and Bloodkin's music. Hutchens and Bloodkin are as Athenian as it gets — the real deal Southern gothic, soul-rock going on 21 years.
Athens, GA's excellent weekly The Flagpole recently sat down and profiled Hutchens in depth, discussing his solo work and the upcoming, much anticipated, seven disc (130 songs) box set of unreleased material, live tracks, demos and DVD spanning the past twenty years. Click here to read article in full.
"I think what separates the solo albums is that they're entirely constructed around the song selection, meaning that the songs are a little more like chapters in a novel. With the Bloodkin records, the songs that wind up on the records tend to be, simply, the ones that the band is playing best at the moment. It's a little bit more about the sound of the whole band." – Daniel Hutchens
Download:
MP3: Bloodkin :: Liquor Ain't Love
MP3: Bloodkin :: End of The Show
MP3: Daniel Hutchens :: Last Living Member of The Last Rock & Roll Band (demo)
—
Nuci's Space Podcast: Bloodkin Interview
WQFS: Daniel Hutchens Interview
———–
Purchase: Daniel Hutchens – Lovesongs For Losers
www.danielhutchens.com ++ www.myspace.com/danielhutchens ++ www.autumntone.com
+ Download Daniel Hutchens through eMusic's 25 Free MP3 offer.
—————————————————————————————————————————-
+ Visit The Hype Machine for additional Daniel Hutchens MP3s.