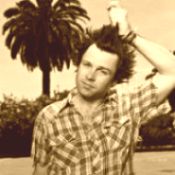 With Easy Tiger (Adams ninth solo album) on the horizon, it's a fine opportunity to post some rarities that have long been available via trading circles and the internets, yet unreleased commercially. You can still check out the "What Sin Replaces Love" feature, here.
Exile On Franklin Street is a rough, super lo-fi, 24 track collection of demos, some of which would later see the light of day on various albums. For existing Adams fans the Exile sessions are an interesting look into the creative process, and a tell-tale sign of things to come. Recorded in 2000, prior to Heartbreaker, the Exile collection foreshadows Adams interests in harder/weirder material than he had previously released with Whiskeytown.
Below are six excerpts from the twenty-four track collection.
Download:
MP3: Ryan Adams :: Blankets Of Booze
MP3: Ryan Adams :: Tractor Beam
MP3: Ryan Adams :: Secret Powers
MP3: Ryan Adams :: Waves Crashing
MP3: Ryan Adams :: Faker (original)
MP3: Ryan Adams :: Chinese Porno Scrappy
——-
Pre-order: Ryan Adams – Easy Tiger
www.ryan-adams.com ++ www.answeringbell.com ++ myspace.com/ryanadams ++ emusic
+ Download Ryan Adams through eMusic's 25 Free MP3 offer.
—————————————————————————————————————————-
+ Visit The Hype Machine for additional Ryan Adams MP3s.