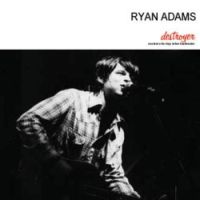 With Easy Tiger (Ryan Adams ninth solo album) on the horizon, it's a fine opportunity to post some rarities that have long been available via trading circles, yet unreleased commercially. You can still check out the Exile On Franklin Street tracks here, and the What Sin Replaces Love feature, here.
Recorded in 2000, the Destroyer sessions took place in Nashville just before the recording of Heartbreaker. Like Heartbreaker, the Destroyer material was bolstered by the production of Ethan Johns and the talents of David Rawlings and Gillian Welch.
This post-Whiskeytown, incredibly fertile, era of Adams' career truly plays to his strengths — roots based, folky and acoustic driven music. Of all the (many) unreleased albums in Adams' solo canon, Destroyer remains my favorite
Interview: Listen to NPR's 2002 interview with Adams as he discusses his troves of unreleased material.

Video: Whiskeytown :: 16 Days & Drank Like A River – Live April 5, 1997


Below are six excerpts from the fourteen track Destroyer collection.
Download:
MP3: Ryan Adams :: Born Yesterday
MP3: Ryan Adams :: Dreaming's Free
MP3: Ryan Adams :: Poison and the Pain
MP3: Ryan Adams :: Rainy Days
MP3: Ryan Adams :: Statuettes with Wounds
MP3: Ryan Adams :: Revelator (cover)
———
Pre-order: Ryan Adams – Easy Tiger
Previously:
++ Ryan Adams :: Exile On Franklin Street (2000)
++ Ryan Adams :: What Sin Replaces Love