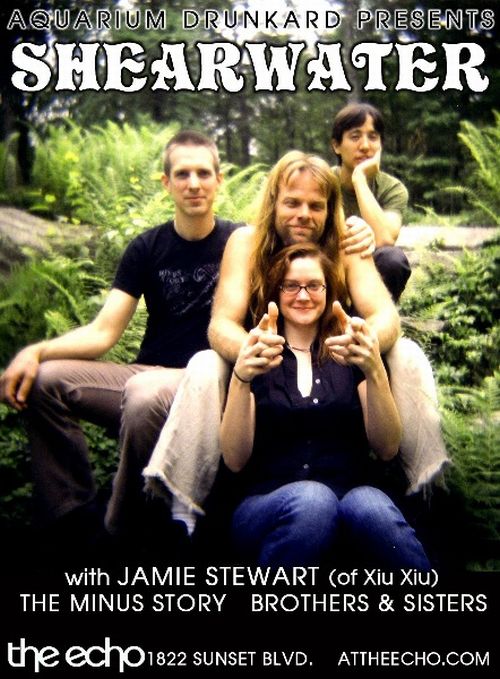 We continue this summers Aquarium Drunkard Presents series with next Tuesdays Shearwater show at The Echo. We have five pairs of tickets to give away, so if you are in the Los Angeles, area and are interested in going, hit me up with your name, email, and favorite Shearwater album in the comments and we will get you sorted out. All entries by Sunday evening please.
Elsewhere: Check out the MP3s from Shearwater's December 2006 Daytrotter session
Download:
MP3: Shearwater :: Red Sea, Black Sea (Expanded Edition)
MP3: Shearwater :: An Accident
MP3: Shearwater :: St. Mary's Walk (demo)
———
Amazon: Shearwater – Pala Santo (matador redux)
www.shearwatermusic.com ++ www.attheecho.com ++ shearwater myspace
——————————————————————————————————————————–
Minus Story's new album My Ion Truss is out this Tuesday, June 19, and the band is out on a month-long tour of the US with Shearwater and then the Old Canes. They are maintaining a tour diary at their website: HERE.
Tour Dates:
06/18/07 Tucson, AZ – Plush w/ Shearwater
06/19/07 Los Angeles, CA – The Echo w/ Shearwater
06/20/07 San Francisco, CA – Bottom Of The Hill w/ Shearwater
06/21/07 Portland, OR – Dante's w/ Shearwater
06/22/07 Seattle, WA – Crocodile Cafe w/ Shearwater
06/25/07 Minneapolis, MN – Triple Rock Social Club
06/26/07 Chicago, IL – Schubas w/ Old Canes
06/27/07 Cleveland, OH – The Grog Shop w/ Old Canes
06/28/07 Buffalo, NY – The Icon w/ Old Canes
06/29/07 Brooklyn, NY – Southpaw
07/01/07 Allston, MA – Great Scott w/ Old Canes
07/02/07 Philadelphia, PA – The Khyber w/ Old Canes
07/03/07 Washington D.C., – Rock And Roll Hotel w/ Old Canes
07/05/07 Newport, KY – Southgate House w/ Old Canes
07/06/07 Champaign, IL – Cowboy Monkey
07/07/07 Lawrence, KS – Jackpot w/ Old Canes
09/15/07 Morrison, CO – Red Rocks Amphitheatre
+ Visit The Hype Machine for additional Shearwater MP3s
——————————————————————————————————————————–
+ Download 25 Shearwater MP3s via eMusics no risk trial offer