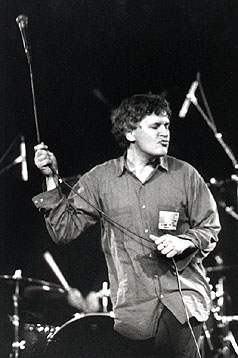 Released separately, alongside a companion DVD of the same name, this two disc set recorded in 2004, entitled Guided By Voices: Live From Austin, TX, finds Robert Pollard and company in the Lone Star state, visiting the set of Austin City Limits, doing what they do best: bringing the fucking rock show. The club is open.
Those familiar with the band, and their live recordings, will no doubt find the set to be on par with many a GBV show — both sloppy and inspired, and usually at the exact same time. That dualism is no doubt part of the charm that keeps us, the Guided By Voices faithful, glued to everything that Pollard & company release, solo or otherwise.
**Be sure to listen to Pollards mid-song banter on "Secret Star." I need me some rock & roll, gotta have me some rock & roll….

Austin City Limts Abridged (aired) tracklisting: * Demons Are Real * Pimple Zoo * Sleep Over Jack * Navigating Flood Regions * Gold Star for Robot Boy * Redmen and Their Wives * Do the Earth * Pendulum * Glad Girls
Recorded: 11/9/2004 "After twenty-plus years and an equal number of albums, EPs and singles, lo-fi indie-rock innovators Guided By Voices are calling it quits. Austin City Limits captures the band during their final tour performing songs from throughout their career." Aired: 01/22/2005
Download:
MP3: Guided By Voices :: Demons Are Real
MP3: Guided By Voices :: Everybody Thinks I'm A Raincloud (When I'm Not Looking)
MP3: Guided By Voices :: Game Of Pricks
MP3: Guided By Voices :: Secret Star**
——
Amazon: Guided By Voices – Live From Austin, TX
www.robertpollard.net ++ www.gbv.com ++ austin city limits

+ Robert Pollard available through eMusic's 25 Free MP3 offer.
—————————————————————————————————————————–
+ Visit The Hype Machine for additional Guided By Voices MP3s.