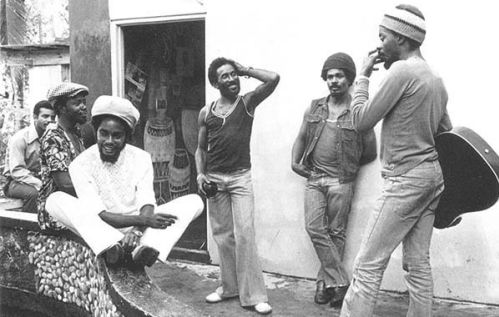 Continuing with their artist curated reggae and dub compilation series (see: DJ Spooky & Jonny Greenwood, previously) Trojan Records invited Super Furry Animal's bassist Guto Pryce to raid their vaults.
Pryce, in his selection, shows a keen ear for classic reggae, ska, dancehall, and of course, and not surprisngly, dub. Trojan waxes: "(this is) a barnstorming romp through the Trojan back catalogue adding to the label's 40th anniversary celebrations…Horace Andy, U-Roy, Lee Perry and Bob Marley are all in full effect." Not to mention Tenor Saw's "Ring The Alarm," a long time Drunkard go-to DJ jam.

In related news: UK based MOJO magazine has nominated Jonny Greenwood's (Radiohead) Trojan project Jonny Greenwood Is The Controller in the reader voted best compilation category for the MOJO Honours 2007. More details can be found HERE.
Previously: Jonny Greenwood Is The Controller
Previousy: In Fine Style :: 50,000 Volts of Trojan Records
Elsewhere & Unrelated: Go check out this video of "Laisse tomber les filles" at Gorilla vs. Bear
Download:
MP3: Tenor Saw :: Ring The Alarm
MP3: Horace Andy :: Skylarking
———-
Amazon: Furry Selection: Luxury Cuts Of Trojan Chosen By A Super Furry Animals
www.trojanrecords.com ++ www.superfurry.com ++ www.myspace.com/superfurry
+ Visit The Hype Machine for additional dub/reggae MP3s
——————————————————————————————————————————–
+ Download 25 MP3s via eMusics no risk trial offer