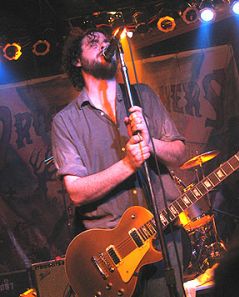 The Athens, GA music and arts festival, Ath-fest, is less than a week away (June 20-24), but unlike last summer I will not be in attendance this year. Too bad, too, as The Whigs and Drive-By Truckers are headlining this years fest…and both bands pack a wallop of a live show.
Having resided in Athens for well over a decade, Drive-By Trucker, Patterson Hood, donning his tour guide hat, sat down with Atlanta's alt-weekly, Creative Loafing and recommended some of his favorite Athens haunts. Selected quotes:
"Just when you think it's over around here, there's a new crop of bands that come up, seemingly from nowhere," says Patterson Hood of the evergreen Athens music scene. "I still get amazed when I stumble on things that just blow me away, right here in my back yard. That's why I love this town and that's why I stay here."
"The Grit is the definitive Athens restaurant," "Three-fourths or more of the people who work there are in a band or the art scene, and it's within walking distance of the main stage so you can keep the same parking place. It's vegetarian, but even carnivores like me love it."
"The Manhattan (bar) and Flicker (bar) are good drinkin' holes," he says from experience. "And Flicker has music going for AthFest, too. Really, there's a band in about every corner of every place during AthFest and that's part of the charm."

Below: Last summer I purchased the Ath-fest comp without looking at the tracklist until leaving town. When I finally did I was, obviously, thrilled to find this unreleased Patterson Hood (solo, studio) track, "Heavy And Hanging", in the lineup. I assume this will be on his long-awaited seond solo LP.

Download:
MP3: Patterson Hood :: Heavy And Hanging
——-
www.athfest.com ++ www.drivebytruckers.com ++ www.thewhigs.com