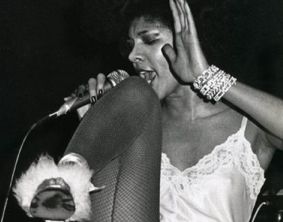 "Warning: Betty Davis is pure uncut funk way ahead of her time." (Prince Paul)
You can thank Light In The Attic records for making all your drrrty Betty Davis reissue dreams come true, as they have recently re-released Davis' 1973 self-titled LP, as well as her 1974 follow up, They Say I'm Different, both of which have long been in and out of print. Sweetening the deal is journalist Oliver Wang's (soul-sides) extensive liner notes which were a year in the making, including some of the only interviews Davis has granted in (literally) decades.
Why should you care? Mainly because, for those of use who are into this stuff, Davis' material, while hard to track down, has always showed up on various '70s die-hard funk & r&b compilation albums. A tease if you will. Seattle's Light In The Attic has not only reissued these LPs, but gone the extra mile digging up old photos, posters, and most importantly researching the story behind the LPs. Kudos.
Elsewhere: Lots of crazy-ass Betty Davis videos have popped up on You Tube….
Download:
MP3: Betty Davis :: If I'm In Luck I Might Get Picked Up
MP3: Betty Davis :: Anti Love Song
––—
Amazon: Betty Davis – S/T
Amazon: Betty Davis – They Say I'm Different

www.lightintheattic.net ++ more betty davis mp3s ++ emusic