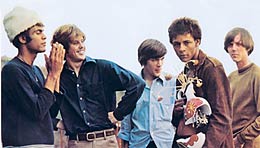 Last summer, the music world lost a legend when Love's Arthur Lee passed away after a long bout with cancer. Now, nearly a year later, HIP-O Select have released the Blue Thumb recordings, three CDs comprised of the double LP Out Here, which is reportedly tracks leftover from Love's last album with Elektra Four Sail, False Start, and an unreleased live UK concert from 1970.
Production Details: "While Lee delivered Elektra the necessary tracks to complete their contract (note the Four Sail title and its dual meaning), the remainder of those highly prolific sessions produced over an hour of extra material, which was released as Out Here. With tracks ranging from one minute to nearly twelve minutes in length, Out Here shows the band at a creative peak. The band followed this release with False Start. Another masterpiece, the album was written and arranged by Lee, with the exception of its opening track —"The Everlasting First" — on which he co-wrote and shared arrangement credits with Jimi Hendrix. If that wasn't enough, Hendrix contributed lead guitar work recorded just six months before his tragic death. "

Video: Love :: Your Mind and We Belong Together (Promo Film 1968)
Download:
MP3: Love :: My Little Red Book (live 1970)
MP3: Love :: Love Is More Than Words (live 1970) fixed
——–
Purchase: Love – The Blue Thumb Recordings
love and arthur lee myspace ++ love website ++ hip-o select ++ emusic
+ Download music through eMusic's 25 Free MP3 offer.
————————————————————————————————————————–
+ Visit The Hype Machine for additional Love MP3s.