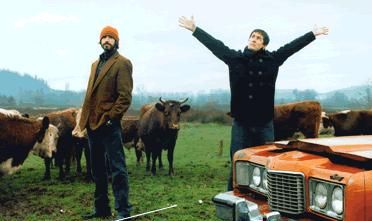 During the Mountain Goats recent Daytrotter session, John Darnielle did his part to bring reggae music back into the fold to an audience that may have written off the genre as bad "lifestyle" music that is sadly way too often co-opted by cruise ship commercials and bad beach bars.
His stripped down cover of "Babylon Burning" exudes the best of the songs raw essence. A genre staple, check out The Upsetters sixties version below, and be sure to read Darnielle's track notes below along the rest of their Daytrotter session.
John Darnielle's notes on the cover song: "A doubtless ill-advised attempt to sing a song I'd been listening to a lot on the tour that led up to this session. I've I.D.'d it as a Peter Tosh song, but it could be a Bob Marley song: there's a version available by the Wailers, but it was from when Tosh was in the band, and the melody sounds more Tosh than Marley to me. Either way, white dudes with acoustic guitars are probably better off not attempting to cover reggae songs, and if further evidence of that were needed, well, here you are. Still, the walkdown on the third line of each verse is kinda awesome, however hard it is to hear over that guy who keeps yelling."
Elsewhere: Download the entire Mountain Goats Daytrotter session
Download:
MP4: Mountain Goats :: Babylon Burning (sendspace link)
MP3: The Upsetters :: Babylon Burning
———–
www.mountain-goats.com ++ www.daytrotter.com ++ emusic
+ Download Mountain Goats through eMusic's 25 Free MP3 offer.
————————————————————————————————————————–
+ Visit The Hype Machine for additional Mountain Goats MP3s.