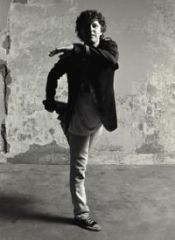 Released by Luna Music, Crickets: The Best of The Fading Captain Series compiles fifty six of Pollards self-released solo joints throughout the years in a (kinda) tidy two-disc set. This is huge, personally, as a) it's a nice set to play in the car, b) I never bought all those records, and c) I can now clean up the dozens of random Fading Captain mp3s off my hard drive. Click here to see the complete tracklisting (just scroll down).
Not sure why, but Pollard is ditching the Fading Captain moniker after this release and is moving on to..wait for it…his new label called Prom Is Coming. Dig that. The first release on the new label will be the Silverfish Trivia LP which is reportedly 16 new tracks with Bob again collaborating with Todd Tobias. Thanks to the reader factotem for clearing this up: ok, Silverfish Trivia is only a 7 song EP. I clearly can't keep up with Bob and his undertakings.
Related: Guided By Voices :: Live @ Austin City Limits 2004
Download:
MP3: Robert Pollard :: Zoom (It Happens All Over The World)
MP3: Robert Pollard :: Tight Globes
———
Purchase: Robert Pollard – Crickets
www.robertpollard.net ++ www.gbv.com ++ luna music

+ Robert Pollard available through eMusic's 25 Free MP3 offer.
—————————————————————————————————————————–
+ Visit The Hype Machine for additional Robert Pollard MP3s.