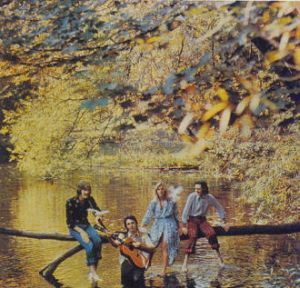 (Sir) Paul McCartney played a 'secret' show here in L.A. on Wednesday at Amoeba on Sunset. Secret is a bit of a misnomer as the sidewalks were jammed with people waiting in line for wristbands days in advance. This in-store was of course part of the promotional blitz supporting Macca's new album Memory Almost Full that was released on the Starbucks Hear Music label. Can I get a non-fat, soy latte with that?
I haven't yet checked out McCartney's new jams, but one track I revisit on a regular basis is the 1971 Wings joint "Love Is Strange" off the Wild Life LP. If you love McCartney at his breeziest and poppiest, "Love Is Strange" is an absolute must listen.
The album was Paul and (new wife) Linda McCartney's first musical collaboration and is a bit of a mixed bag with a smattering of solid tracks throughout — "Love Is Strange" being my favorite. The bouncy instrumentation, casual attitude and lyrics would set the pace for many a Macca track throughout the 1970s.
Download:
MP3: Wings :: Love Is Strange
——–
Amazon: Wings – Wild Life
www.paulmccartney.com ++ hear music label ++ emusic
+ Download Paul McCartney via eMusic's 25 free MP3 no risk trial offer
––––––––––––––––––––––––––––––––––––––––––—
+ Visit The Hype Machine for additional McCartney & Wings MP3s