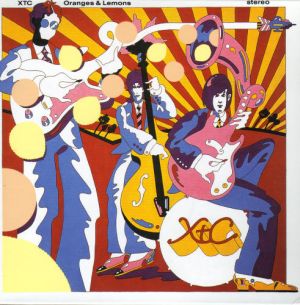 A couple of weeks ago Chris at Gorilla vs. Bear turned me onto the mid-eighties psychedelic XTC spinoff group, The Dukes of Stratosphear. While I'd heard a number of Andy Partridge side-project related material over the years, this particular incarnation was news to me.
If you're interested in checking out what The Stranger describes as "a brilliant psychedelic pop pastiche that lovingly combines morsels of early Pink Floyd, middle Beatles, Electric Prunes, Hollies, Kinks, and dozens of other, like-hearted bands…," then head over to GvB, who just wrote the album up a few days ago HERE.
Listening to this inspired homage to '60s garage-rock and psychedelia got me thinking about Partridge's songwriting in XTC, and the large body of (varied) work they have amassed over the past three decades. It's not hard to pick out the X,Y and Z groups of today who are liberally nicking ideas and style from the longtime British band.
XTC's MTV friendly single "Mayor Of Simpleton," off the Oranges & Lemons LP, was my first exposure to the group back in 1989; the bygone era when the video network still actually played music videos. Seeing these bookish looking Brits belt out this perfect pop nugget, was both refreshing and, at the time, very odd. These were the days when bad hair metal and early hip-hop (back then it was known as Rap, baby) dominated the network, so seeing this video crammed alongside the former was befuddling to my 14 year old eyes and ears. It also made this tune that much sweeter.

Download:
MP3: XTC :: The Mayor Of Simpleton
——
Amazon: XTC – Oranges & Lemons
+ Download tunes via eMusic's 25 free MP3 no risk trial offer
——————————————————————————————————————————
+ Visit The Hype Machine for additional XTC MP3s