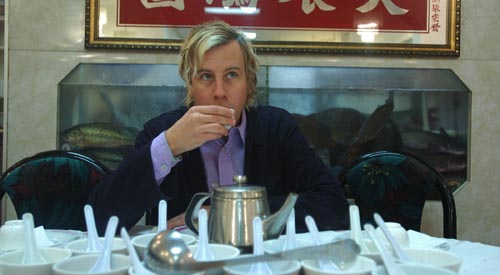 Off The Record is a recurring, feature here on the Drunkard that will marry two of my greatest interests; music and travel. Having a locals perspective when visiting a new locale is the difference between experiencing it through the lens of a tourist and of that of a native. Off The Record gathers some of my favorite artists, asks them to reflect on their city of residence, and choose a handful of places they could not live without, be them bookstores, bars, restaurants or vistas.
Today we peek into the world of longtime San Francisco resident John Vanderslice…a town once described by Alfred Hitchcock as the most cosmopolitan of America's cities. When not running his Tiny Telephone studio or producing others work, Vanderslice, an accomplished songwriter in his own right, has been busy touring and finishing up work on his upcoming LP Emerald City, due out on the Barsuk label July 24th. JV's local perspective is an excellent insight into the city no matter if you're an existing SF resident, or just planning a casual visit.
* * * *
Places in San Francisco I Love!
Flora Grubb Gardens :: A fantastic nursery that just moved to much bigger digs on the 3rd
St. corridor. I have about .1 acres, so I try to jam as many weird plants as I can on my lawn.
Shangri-La Chinese Vegetarian :: An amazing Outer-Sunset vegan place. Home of the most inscrutable menu in town. (Try B3- vege lamb with dioscoria!)
Mount Davidson Park :: The highest point in SF! The hill with the massive concrete cross! The place where Dirty Harry runs after some crook, or is pursued by some crook, can't remember. I live right down the street from this cluttered, wild place. It's a beautiful and forgotten park where you can hike for 20 minutes before you see a soul.

Ritual Coffee :: One of the best cafes in the city (Blue Bottle should also be mentioned). My keyboardist, Ian Bjornstad works here. The only conflict of interest here is do I get a vegan donut, or a mini cupcake? Ian help me out!
SF Botanical Gardens :: I wrote a song about this place (New Zealand Pines). I've been here a hundred times since I moved to the city and have tracked down many of the plants I found here to try on my own: Silver trees, passiflora membranacea, and Chilean Gunnerea (otherwise known as Dinosaur Food.)
* * * *
Previously: Off The Record :: Josh Rouse (Valencia, Spain)
Download:
MP3: John Vanderslice :: White Dove (new)
——-
Pre-order: John Vanderslice – Emerald City
www.johnvanderslice.com ++ www.myspace.com/johnvanderslice
——————————————————————————————————————————
+ Visit The Hype Machine for additional John Vanderslice MP3s