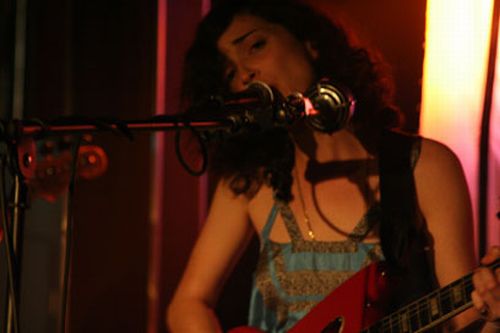 Without a doubt, St. Vincent's solo performance at Largo, this past May, stands as my favorite show thus far in 2007. Certainly high praise when you consider it was just Vincent (Annie Clark), her guitar, a kick drum, and piano.
That modest combination proved to be amazing — prompting us to say this the day after: "In a word, her performance was breathtaking. Deftly moving from confessional singer-songwriter fare on the piano, to displaying avante-guard, Zappa-esque chops on the guitar, St. Vincent (Annie Clark) had the audience captivated from the moment she took the stage."
St. Vincent's debut LP entitled Marry Me drops today. Pick it up, and better yet, go see her perform live this summer. photo cred: gorillavsbear
Video: St. Vincent – Your Lips Are Red (DUMBO session)
Related: Largo May 10th :: Catching Up With St. Vincent

Download:
MP3: St. Vincent :: Marry Me
MP3: St. Vincent :: Now, Now
——–
Amazon: St. Vincent – Marry Me
www.myspace.com/stvincent ++ www.beggars.com ++ emusic
+ Download tunes through eMusic's 25 Free MP3 offer.
—————————————————————————————————————————–
+ Visit The Hype Machine for additional St. Vincent MP3s.