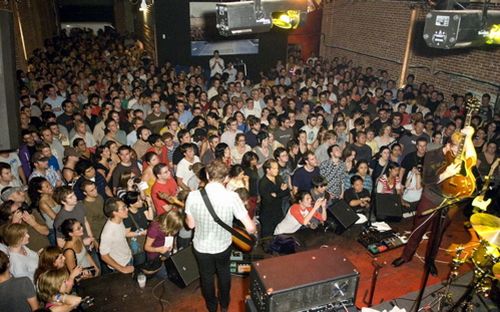 Photo Credit: Timothy Norris

Spoon
brought the heat last night to their "secret" show at the
Little Radio
warehouse in downtown Los Angeles. Literally. Two steps inside the brick-walled building, and the temperature rose a good 25 degrees. Nevertheless, the at capacity crowd swilled Dewars and listened to special guest,
John Vanderslice
, perform material off his upcoming album
Emerald City
. +++++++ By the time
Spoon
took the stage the walls were sweating with Texas humidity by band proxy. Playing a good hour and half, the audience were treated to a full dose of their latest,
Ga Ga Ga Ga Ga
, plus a generous amount of crowd favorites/pleasers. A damn fine rock & roll band. This one-off has only heightened our anticipation for the bands next L.A. show, this Fall (Sept 10th), at the
Henry Fonda
.
Elsewhere:
LA Times music critic Kevin Bronson's review of the show…
Below: Here's two off Ga Ga Ga Ga Ga, plus an old favorite off 2001s Girls Can Tell…

Download:
MP3: Spoon :: The Underdog
MP3: Spoon :: The Ghost In You Lingers
—
MP3: Spoon :: The Fitted Shirt
——–
Amazon: Spoon :: Ga Ga Ga Ga Ga
++ www.spoontheband.com ++ www.myspace.com/spoon

+ Download Spoon via eMusic's 25 free MP3 no risk trial offer
——————————————————————————————————————————
+ Visit The Hype Machine for additional Spoon MP3s