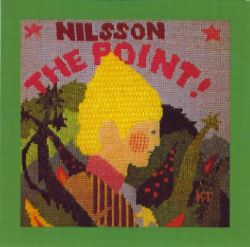 "I was on acid and I looked at the trees and I realized that they all came to points, and the little branches came to points, and the houses came to point. I thought, 'Oh! Everything has a point, and if it doesn't, then there's a point to it.'" — Harry Nilsson
There was no way I could quit at just one Nilsson post this week, so here is number two. Bolstered by the recent Nilsson documentary, Who is Harry Nilsson (And Why is Everybody Talkin' About Him), I sought out and watched (on Youtube) The Point, Harry Nilsson's 1971 animated feature narrated by his pal Ringo Starr.
Directed by Fred Wolf, Nilsson's tale of nonconformity first aired on ABC in 1971. Reportedly (wiki) Dustin Hoffman originally narrated the special inhabiting the role of the father until legal hassles led the producers to bring Ringo Starr on board to replace him. If memory serves, I believe when I first saw this on television in the early '80s, it was a decidedly British accented narrator, which leads me to believe I got to know The Point v. 2 via Ringo.
Below: Watch part one, of eight, of The Point below, and listen to Nilsson's brilliant "Me And My Arrow" which clocks in at about seven minutes and twenty seconds.
Download:
MP3: Nilsson :: Me And My Arrow