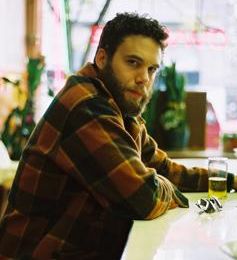 4-5 weeks ago, out of (seemingly) nowhere, I received The Great Outdoors new album Food, Booze & Entertainment. Apparently Songs:Illinois did as well (and was similarly impressed). Released early spring via the Canadian label DDG Records, the album/book combo has been an unexpected treat over the past month. This is rugged folk I plan on listening to a lot more before the summer ends, but will sound even better framing the coming Fall even more so.
Here is the label's take on the eclectic, Canadian folk collective: "The Great Outdoors is Adam Nation's project involving many players in the Vancouver music scene. Adam plays banjo, ukulele, tenor, flamenco and steel string guitars. He has a collection of instruments and songs for each one. Adam is one — fifth of and the main songwriter in counterrevolutionaries, a Vancouver rock band that has released two records on DDG and tours Canada regularly."
Download:
MP3: The Great Outdoors :: 1983… (A Merman I Should Turn To Be) (Hendrix cover)
MP3: The Great Outdoors :: Land of My Deceased
———
Purchase: The Great Outdoors – Food, Booze & Entertainment
www.myspace.com/thegreatoutdoorsddg ++ www.ddgrecords.ca
+ Download music through eMusic's 25 Free MP3 offer.
—————————————————————————————————————————-
+ Visit The Hype Machine for additional MP3s.