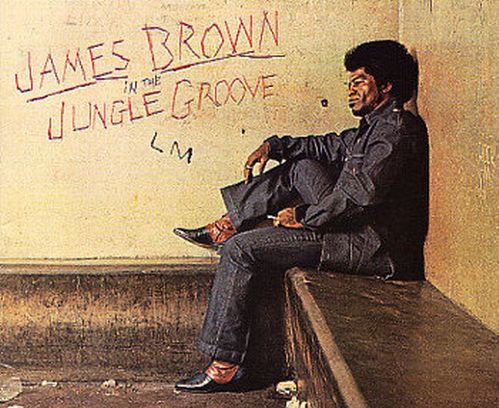 "Fellas, one more time I wanna give the drummer some of this funky soul we got here. You don't have to do no soloing, brother, just keep what you got. Don't turn it loose, because "it's a mother." – James Brown (Funky Drummer)
I own a lot of James Brown, but hands down In the Jungle Groove is the LP I grab the most, right now, when I need a JB soul joint. The word 'funky' only begins to describe it.
Most famous for housing the track "Funky Drummer," which in turn houses arguably one of the most sampled drum breaks of the past twenty years, In The Jungle Groove (now remastered) is a raw collection of essential JB nuggets that no soul, funk, or r&b fan should be without. In my world, this is what we call "required listening".       Ain't it funky…
Get down to these JB originals, and then check out a couple of mainstream examples of the purloined "Funky Drummer" drum break sampled in, decidedly, non hip-hop tracks. The Sinead track off her breakout LP, I Do Not Want What I Havn't Got, has been an A.D. favorite going on fifteen years now, and probably deserves a post of its own.
**You can read more about the Funky Drummer's lineage and history via its wiki article.
Download:
MP3: James Brown :: Funky Drummer
MP3: James Brown :: Funky Drummer (bonus beat reprise)
—
MP3: Sinead O'Connor :: I Am Stretched On Your Grave
MP3: Madonna :: Justify My Love
———
Amazon: James Brown :: In the Jungle Groove
+ Download your music via eMusic's 25 free MP3 no risk trial offer
——————————————————————————————————————————
+ Visit The Hype Machine for additional James Brown MP3s