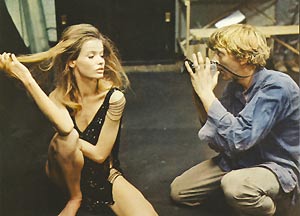 Italian director Michelangelo Antonioni's film Blow Up, from 1966, left a lasting impression on me. Its depiction of mod-cool, sixties London, is aesthetically on point throughout its entirety — and that's not even taking in consideration the actual (murder mystery) plot, which itself is both meandering (in the style of sixties art-house) and engrossing.
The Music: The majority of the film is scored by Herbie Hancock, which, while appropriate, pales in comparison to The Yardbirds segment in which a young Jimmy Page plays on while while watching bandmate, Jeff Beck, frustrated with amp feedback, destroy his guitar in the middle of a performance. This is the second time I have posted this video on the Drunkard. It is sixties London, blues based, garage at its best. It is also The Yardbirds finest incarnation.
Download:
MP3: The Yardbirds :: Stroll On
——-
Amazon: Blow Up: Original Motion Picture Soundtrack
+ Download The Yardbirds through eMusic's 25 Free MP3 offer.
––––––––––––––––––––––––––––––––––––––––––
+ Visit The Hype Machine for additional The Yardbirds MP3s.