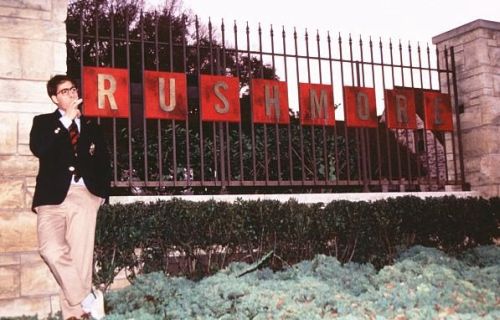 How many times, so far, have you watched Wes Anderson's The Darjeeling Limited trailer? I think here at the A.D. home offices we are up to around, oh, ten, give or take a few.
Back in 2005 Wes Anderson was the first filmmaker profiled in our (presently on hiatus) series A Soundtrack Enthusiast. For those of you who were not reading back then, we've dusted this one off, and updated it with The Kinks track "This Time Tomorrow" off the album Lola versus Powerman, which runs throughout the trailer. Once again, Anderson has our attention.
++ Be sure to leave your favorite Wes Anderson film in the comments; it will be interesting to see where everyone stands. And if you have not viewed The Darjeeling Limited trailer yet, make a point to check it out below.
* * * * *
Some of my favorite films of the past decade have been the works of Wes Anderson. His impeccable attention to detail draws the audience right into his world and imagination. It's no surprise that I am almost always as eager to hear the soundtrack as to see the actual films. Almost. Here are some tracks spanning his five films thus far, not including any of Anderson's longtime collaborator, Mark Mothersbaugh's, inspired film scores.
DOWNLOAD:
MP3: The Darjeeling Limited: The Kinks – This Time Tomorrow
MP3: Bottle Rocket: The Rolling Stones – 2000 Man
MP3: Rushmore: Creation – Making Time
MP3: Rushmore: The Kinks – Nothing In This World Can Stop Me Worryin'
MP3: The Royal Tenenbaums: The Ramones – Judy Is A Punk
MP3: The Royal Tenenbaums: Elliott Smith – Needle In The Hay
MP3: The Life Aquatic: Seu Jorge – Starman
MP3: The Life Aquatic: David Bowie – Queen Bitch
––––—
Amazon: Wes Anderson – Soundtracks
www.wesanderson.org ++ the darjeeling limited imbd site ++ emusic
+ Download music via eMusic's 25 free MP3 no risk trial offer
——————————————————————————————————————————
+ Visit The Hype Machine for additional Kinks MP3s