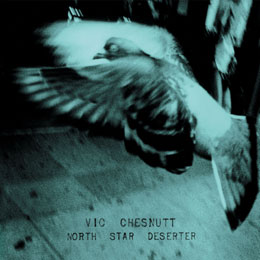 On a different level, Vic Chesnutt's musical collaborators and co-conspirators, over the past 15 years, are almost as interesting and varied as the southern Gothic bard's lyrical imagery itself. Always one for experimentation, the artist has collaborated with, among others: Van Dyke Parks, Lambchop, Michael Stipe, Will Johnson, Widespread Panic, and Bill Frisell. I could easily go on.
Here, on North Star Deserter, his fourteenth album, Chesnutt once again finds himself surrounded by an interesting and eclectic cast of supporting characters. Recorded in Montreal, and produced by Chesnutt's fiend, filmmaker Jem Cohen, the players range from Fugazi's Guy Picciotto, to local Canadian outfit Silver Mt. Zion Memorial Orchestra.
Peppered throughout the LP is Chesnutt's trademark dark wit, which is now as innate to his songwriting as the Southern lore that inhabits his material. Because of this, North Star Deserter (while albeit stylistically different) feels very much like a continuation down the path first tread nearly twenty years ago via Chesnutt's home recordings. I could not be more happy with this LP.
Download:
MP3: Vic Chesnutt :: Glossolalia
MP3: Vic Chesnutt :: Wallace Stevens
——–
Pre-order: Vic Chesnutt – North Star Deserter
www.vicchesnutt.com ++ www.myspace.com/vicchesnutt ++ vic chesnutt catalog @ emusic
+ Download Vic Chesnutt via eMusic's 25 free MP3 no risk trial offer
——————————————————————————————————————————
+ Visit The Hype Machine for additional Vic Chesnutt MP3s