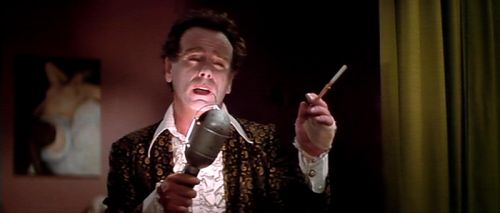 "A candy colored clown they call the sandman, Tiptoes to my room every night" – Roy Orbison
David Lynch: auteur/soundtrack enthusiast/hypnosis pundit.
Here we have a filmmaker who absolutely transforms the songs he incorporates in his films into his own – Aural puddy in his hands. Can anyone really hear Bobby Vinton's "Blue Velvet," without feeling the voyeuristic atmosphere that runs throughout the eponymous film? Of equal importance: Angelo Badalamenti, whose original, other-worldly, Lynchian scores, over the past 20 years, have themselves, created a landscape of there own even apart from the source material.
Lynch, an un-refuted expert in juxtaposing a song with a scene of a dissimilar theme, is often copied, but never trumped. Speaking of, any of you had a chance to see Lynch's Inland Empire yet? Thoughts?
Previously: Wes Anderson :: A Soundtrack Enthusiast
DOWNLOAD:
MP3: Blue Velvet – Bobby Vinton – Blue Velvet
MP3: Blue Velvet – Roy Orbison – In Dreams
MP3: Wild At Heart – Them – Baby, Please Don't Go
MP3: Fire Walk With Me – Angelo Badalamenti – Theme From Twin Peaks
MP3: Lost Highway – Lou Reed – This Magic Moment
MP3: Mulholland Drive – Angelo Badalamenti – Silencio
MP3: Mulholland Drive – Roy Orbison – Crying
MP3: Muhlholland Drive – Rebekah Del Rio – Llorando (crying)
–––––
Amazon: David Lynch – Soundtracks
www.davidlynch.com ++ www.angelobadalamenti.com ++ emusic
+ Download tunes via eMusic's 25 free MP3 no risk trial offer
——————————————————————————————————————————-
+ Visit The Hype Machine for David Lynch MP3s