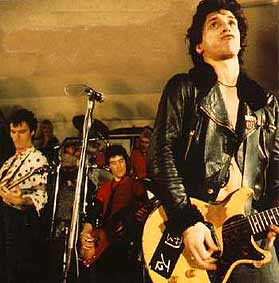 The following is a guest post by Will from, one of my favorite blogs, Be The Boy. If you read (and enjoy) Chuck Klosterman's stuff, then by all means, Be The Boy should be a daily stop on your Blog Ride. I hope you all enjoy this piece, on the late Johnny Thunders, as much as I did. – A.D.
——————-
Been lying on my floor most of the night listening to what, for the moment, is my favorite record Johnny Thunders and the Heartbreakers – L.A.M.F. the 1977 mix version. Originally put out in 1978 following the slow quiet death of the New York Dolls, L.A.M.F. (Like a Mother Fucker) is a lost rock and roll classic that didn't see the light of day in the format I'm now playing for more than 20 years.
The Heartbreakers as they were originally called were made up of ex Dolls Thunders on guitar and Jerry Nolan on drums aided and abetted by Walter Lure on guitar and ex-Neon Boys ex-Television member Richard Hell on bass. The band dropped the glam aspects of the Dolls in order to play old fashioned rock and roll. I guess not having to worry about looking good on stage gave Thunders and Nolan more time to dedicate to their full blown heroin addictions. Despite devoting the majority of his time to vice the Johnny was truly invigorated by having a new band and the band developed a hard edged, albeit sloppy sound centered on catchy riffs and with the replacement of Richard Hell by Billy Rath a solid rhythm section. The Heartbreakers had no trouble fitting in with the NY rock circuit of the day (CBGB, Max's Kansas City, etc…).
The band had also been to England at the request of ex-Dolls manager/scenester/oportunist Malcolm McClaren to play with his new group The Sex Pistols. Being more experienced and better versed in rock and roll the Thunders and the band easily outshined their English counterparts including the Pistols and the Dammed. While The Heartbreakers were at the core a rock and roll band they could hold their own for sheer punk rock enthusiasm and noise, stylistically they sound close to the early Clash records with a bit of Rolling Stones thrown in.
Continue Reading after Le Jump…
The Stones connection was not accidental. Johnny Thunders and Keith Richards shared more than just a love smack. Had Keith gone out on his own after Exile on Main Street, 1978's Some Girls might have sounded like L.A.M.F. I guess we'll never know that for sure but that is what I like to think. I suppose Johnny's mistake was being a poor junkie, The Dolls picked up more press than money and the Heartbreakers were no different. Any hope of climbing up from street junkie to affluent celebrity junkie rested on putting out an album and getting out of just gigging nightly in clubs.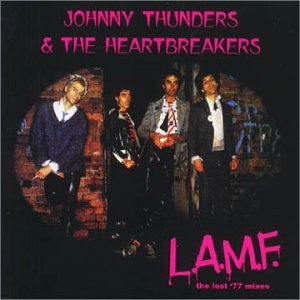 So with addiction levels in check the band stepped into the studio in 1977 to record. What came out of those sessions should have been a jolt of energy that pulled in both the punk and mainstream rock fans. The songs are good enough to have made L.A.M.F. a landmark record but addicts are addicts and will always sabotage themselves and with it any chance at lasting success or happiness. Somehow between the recording sessions in 77 and the release in 78 the record got remixed and in the process lost a lot of it's sonic energy. What was finally released in 78 was a neutered L.A.M.F. Had they just dropped the 77 demos on a street corner they would have stood a better chance of success than they had with the 78 mixes. This is speculation on my part but perhaps feeling flush from the success of the sessions Thunders and the band went off to enjoy themselves and thus didn't take control of the mixing sessions. What should have been a simple engineering job resulted in a disaster. The record went nowhere, the band was going nowhere.
Without a record worth a damn and habits to support Thunders and Nolan became musical vagabonds, taking gigs just to score enough cash to keep from withdrawals. The Heartbreakers dissolved, some unofficial releases hinted at what might have been but there simply wasn't much to show for the band. After spending more than a dozen years as a junkie for hire with a guitar Johnny Thunders passed away in 1991, Jerry Nolan followed a few months later. The Heartbreakers would be forgotten completely if not for the discovery of the 1977 mixes. These are the band's original versions, the way they were intended to sound. Listening to them years after the fact I wonder how this got fucked up so badly. It is on par with anything else of the time and in fact outshines everything but the very best punk but there are worse things to be than not as good as the Clash or not as catchy as the Ramones. Stack up L.A.M.F. next to 95% percent of punk rock from 1977-1978 and all of mainstream rock from the same period and it more than holds it's own, it's takes it out back and beats it over the head, maybe takes its wallet too.
In the end all the could have beens don't mean much. Even with an outstanding record, a good mix and label support there was probably little hope for a happy ending. Johnny Thunders was an addict and unless he was willing to take steps to change that he'd never find success or true happiness and unfortunately as he went the band went. The band is all but unknown and the name Johnny Thunders conjures up more images than it does memories or knowledge of actual songs. Things didn't have to be this way but sad stories have to happen too I guess. Not everyone gets a happy ending but the Heartbreakers and Johnny Thunders are a cautionary tale, if nothing else, about the dangers of excess and the myth of glorious self destruction. L.A.M.F. is a picture of what could have been but was never going to be. Johnny couldn't change to save his career or his life and died alone in a New Orleans hotel room. Time to flip the record and start it over.
Download:
MP3: Johnny Thunders and the Heartbreakers :: Born to Lose
MP3: Johnny Thunders and the Heartbreakers :: Going Steady
——–
Amazon: Johnny Thunders and the Heartbreakers – L.A.M.F.: The Lost '77 Mixes