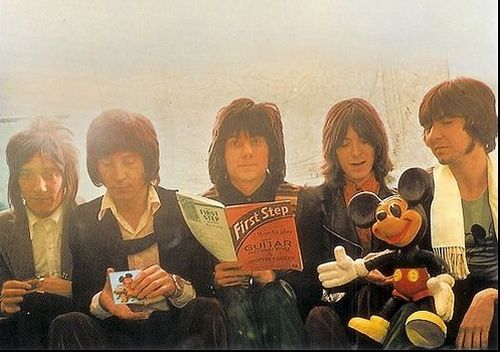 I know, I know. It can be hard to forgive pop stars for their latter-career missteps; in this case, one mister Rod Stewart. After years, and years (and years) of E! True Hollywood Story segments, Behind The Musics, People magazine exposé's, and a seemingly endless string of notorious marriages/divorces to young blondes, Rod the mod is mostly seen, these days, as aging celebrity tabloid fodder. So yeah, when one squanders their talent/reputation like Rod, it's easy to see why most folks who grew up in the eighties have a less than favorable impression of the artist.
When you couple the above argument, with his abysmal solo records, over the past twenty odd years (Rod is now having great success cutting "standards" records…gag), it can be very easy to forget that at one time Rod Stewart was the fucking man, both solo, and fronting the raucous, booze heavy, rock & roll outfit the Faces. I was reminded of this last week while driving through North Carolina's Outer Banks, when whatever radio station the rental car was dialed into, suddenly, and unexpectedly, launched into the Faces raunchy "Stay With Me." Besides ** "Ooh La La," "Stay With Me" is probably the bands most well known song, and for good reason. When Rob croaked "I hear you're a mean old Jezebel, Lets go up stairs and read my tarot cards," I about had to pull the car over it sounded so good. Rock & Roll.
Since returning to Los Angeles I have been inspired to dig into my copy of the Faces comprehensive box set Five Guys Walk Into A Bar. I was going to say that I recommend this to even the most casual Faces fan, but really, I recommend this to even the most casual fan of seventies, Stones-ish, pub rock, period. Released a few years ago the box does an expert job in wrangling together not only the bands album cuts, but outtakes, alternate versions and ultimately the Faces take on songs that would go on to grace the initial Rod Stewart solo albums.
Alright, I'm going to quit waxing now and listen to the music — I suggest you all do the same. Look for inspired, related Small Faces, and early Rod Stewart solo, posts in the very near future.
** The Faces "Ooh La La" had the great fortune of being used as a cornerstone track in Wes Anderson's film Rushmore, hence introducing it to a whole new audience. See more Rushmore OST tracks here.
The Faces :: Bad & Ruin – Live @ the BBC 1971
Download:
MP3: The Faces :: Flying
MP3: The Faces :: Stay With Me
MP3: The Faces :: Ooh La La
——-
Amazon: The Faces – Five Guys Walk Into A Bar
+ Download your music DRM free via eMusic's 25 Free MP3 trial offer.
——————————————————————————————————————————
+ Check out additional Faces tracks at the Hype Machine.