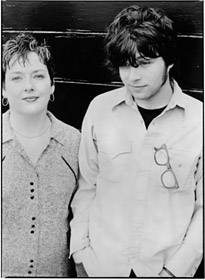 I recently stumbled upon this old, rough, Whiskeytown demo, from 1995, while gently resurrecting an old hard drive that I hadn't fired up in a roughly a year and half (also see: upcoming National post).
This version of the song can be found on the Drunken Confessions bootleg collection that gathers up old, rare, Whiskeytown, Skylarks and early Ryan Adams tracks, aka: an unauthorized collection of bedroom and radio songs, old and new.
Caitlin Cary to AnsweringBell: "I think you've got the title right, if memory serves. I also think that I may have inspired this song because I remember talking about the act of first buying a bed after breaking up with a guy I lived with for a long time — the first bed I ever bought for myself. I honestly don't remember if I penned any of these lines, but the song meant something to me, and I sure can remember singing it."
Related: Click here for previous Whiskeytown and Ryan Adams related posts…

Download:
MP3: Whiskeytown :: The Bed That I Bought
——–
www.ryan-adams.com ++ www.answeringbell.com ++ myspace.com/ryanadams ++ emusic
+ Download Ryan Adams through eMusic's 25 Free MP3 offer.
—————————————————————————————————————————-
+ Visit The Hype Machine for additional Ryan Adams MP3s.