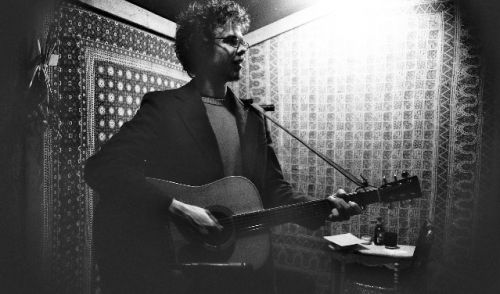 Off The Record is a recurring, feature here on the Drunkard that will marry two of my greatest interests; music and travel. Having a locals perspective when visiting a new locale is the difference between experiencing it through the lens of a tourist and of that of a native.
Off The Record gathers some of my favorite artists, asks them to reflect on their city of residence, and choose a handful of places they could not live without, be them bookstores, bars, restaurants or vistas.
Today we catch up with acclaimed singer/songwriter Josh Ritter who, just this week, released his fifth proper studio LP The Historical Conquests of Josh Ritter. Ritter, who after years of bouncing around various U.S. locales (in troubadour fashion), now calls Moscow, Idaho his home, not far from where he grew up. Catch Ritter on tour.
* * * * * * *
Josh Ritter's Top five places in Moscow, ID
1. Tri-State, "Idaho's Most Interesting Store" :: I had a girlfriend from Ireland that came to visit me in Moscow. This store scared the life out of her. Guns, knives, safes for guns and knives, dutch oven cooking equipment, flannel, free popcorn, and moose heads. In a word of ever-encroaching big box stores, Tri-State is really the only store I need. They also have kerosene and huckleberry jam, depending on when you show up.
2. John's Alley :: My favorite bar in the world. Shuffleboard, 80's cardboard bikini girls, the only Spuds McKenzie poster still in existence. This is the first stop on the string-of-beer-pearls stretched across the surrounding counties known as "The Boville Run." The next two stops are "Slurp 'n Burp", and then "The Greek and the Swede's" in Troy.
3. Bookpeople :: Bob and Betsy run this, the best bookstore in the Gem State. Whenever I'm in town I stop by. They have a huge magazine collection, heaps of local history books, and a great old record collection. Plus they know everyone and everything about what's going on in town. They're like family.
4. The Moscow Food Co-op :: When the Kentucky Fried Chicken place closed down in the 80's we didn't see it as ironic that a health food store moved into the vacated property. That is because we didn't know what health food was. Now we do. Their beautiful new store is the heart of Moscow and I eat there for lunch almost every day I'm at home. And there are a lot of pretty and healthy girls there. A lot.
5. Idler's Rest :: A grove of cedar trees in the crook of Moscow Mountain, this is what i think of as the most mythic part of my state. Ask anyone and they'll point you in the right direction. You'll know when you get there because it gets cool and very, very quiet.
Related: Previous artist's contributions to the Off The Record series….

Download:
MP3: Josh Ritter :: To The Dogs Or Whoever (new)
—
MP3: Josh Ritter :: Thin Blue Flame
MP3: Josh Ritter :: Girl In The War
———
Amazon: Josh Ritter – The Historical Conquests of Josh Ritter

www.joshritter.com ++ www.myspace.com/joshritter ++ emusic

+ Download Josh Ritter via eMusic's 25 free MP3 no risk trial offer
——————————————————————————————————————————
+ Visit The Hype Machine for additional Josh Ritter MP3s