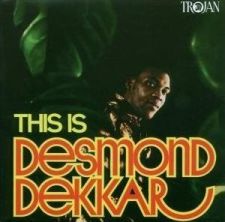 As we mentioned last month, Aquarium Drunkard is excited to have teamed up with the classic reggae/dub label, Trojan Records, to help commemorate the their 40th anniversary. As any genre aficionado will tell you, when it comes to this shit, Trojan is where it's at.
What this means for A.D. readers – who are reggae/dub enthusiasts – is the opportunity to get your paws on some excellent, free, Jamaican classics. Throughout the next five weeks, or so, we will be giving away one classic title, per week, from the Trojan archives. Each week one winner will receive the record featured that week (i.e. this week is Desmond Dekker) and 5 other titles from the Trojan 40th Anniversary campaign, plus Trojan pins, a turntable mat, backpack, etc. Check back weekly for updates.
We're going to kick this thing off with 1969s This Is Desmond Dekker which got the reissue treatment last year tacking on additional songs to the already classic LP.
To get your hands on this stuff: Leave you name, a valid email address, and your fave reggae/dub album, and why, in the comments. The winner will be alerted (via email) by Sunday evening.

Download:
MP3: Desmond Dekker :: 007 (Shanty Town)
——-
Amazon: Desmond Dekker – This Is Desmond Dekker
+ Download reggae/dub via eMusic's 25 free MP3 no risk trial offer
——————————————————————————————————————————
+ Visit The Hype Machine for additional Desmond Dekker MP3s