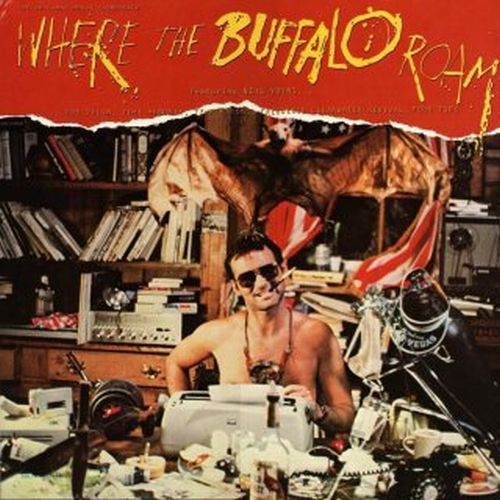 "I hate to advocate weird chemicals, alcohol, violence or insanity to anyone… but they've always worked for me." – Dr. Hunter S. Thompson
Listen, I'm not here to defend the original feature film based on the writings of Hunter S. Thompson entitled Where The Buffalo Roam (1980)…oh wait, yes I am, but I'll be brief.
The movie, typically, gets critically panned every time I hear it brought up in conversation; no matter the context. And I will agree, that yes, when compared to Johnny Depp's uncanny portrayal of the good Doctor in 1998's Fear And Loathing In Las Vegas, Where The Buffalo Roam does come off as the red headed stepchild. But, and this is important, know that in Where The Buffalo Roam, that you are watching Bill Murray's take on BILL MURRAY portraying Hunter S. Thompson…Murray, the comedic genius that he is, never does a straight portrayal of anything. The "Murray" character is always in there, hell, even in The Razor's Edge, the Bill Murray character is in there stewing.
These are two entirely different films, tackling two different "plots." The Depp vehicle was (obviously) based on Thompson's bestselling, most popular, written work Fear And Loathing In Las Vegas, while Where The Buffalo Roam is a ramshackle smattering of various HST stories, some of them true, some fiction, with most, appropriately, residing somewhere in the middle.
Despite your feelings on the film, Neil Young fans will want to track down the official soundtrack (no small feat), as in addition to various rock, r&b and pop hits from the sixties (Hendrix, Temptations, Dylan, CCR), the film was scored by Young with original works including: "Buffalo Stomp," "Ode To Wild Bill #1,#2, #3, #4" "Home, Home On The Range," and "Buffalo Stomp Refrain." Giddy up.
Where The Buffalo Roam :: Theatrical Trailer (1980)
Soundtrack side note: Because of the high cost of music licensing, most VHS and all DVD releases have retained only the Neil Young score and the Creedence song, "Keep on Chooglin'", with the rest of the music replaced by generic approximations of the original songs. Only the theatrical release and early VHS releases contained the songs found on the soundtrack. (via)
Previously: Hunter S. Thompson :: The Rum Diary (Film)

Download:
MP3: Neil Young :: Home, Home On The Range
MP3: Neil Young :: Buffalo Stomp
MP3: Neil Young :: Ode To Wild Bill #1
———
Amazon: Where The Buffalo Roam – DVD

+ Download your music DRM free via eMusic's 25 Free MP3 trial offer.
——————————————————————————————————————————
+ Check out additional Neil Young tracks at the Hype Machine.