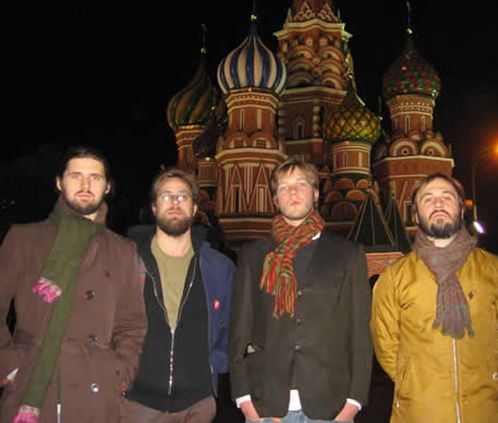 Off The Record is a recurring, feature here on the Drunkard that marries two of my greatest interests; music and travel. Having a locals perspective when visiting a new locale is the difference between experiencing it through the lens of a tourist and of that of a native.
Off The Record gathers some of my favorite artists, asks them to reflect on their city of residence, and choose a handful of places they could not live without, be them bookstores, bars, restaurants or vistas.
Today we catch up with Akron/Family drummer, Dana Janssen, who lists some of his favorite, go-to, spots in New York City. Formed in 2002, the groups second full length LP, Love Is Simple, is being released via Young God records September 10. Catch up with Akron/Family on tour throughout the Fall.
* * * * * * *
As we tour more and more, I realize that there actually are places in my city that i find difficult doing without for extended periods of time. I suppose I can live without any of these as they are all luxuries, however, I really enjoy all of these places. — Dana Janssen – Akron/Family
1.) The C.S. (coffee shop). Also known as Gimme Coffee. Sure their beans are a bit over roasted these days, but i can still go in and guaranteed I'll run into the neighborhoodlums I love.
2.) The next is the stoop. The magical stoop where i spend the majority of my summer loitering, catching a buzz, and talking with my good friend Ossian. We've come up with so many great money making schemes and actually solved a lot of the worlds problems on that stoop. I'm not going to reveal the location of this stoop for its already gotten a crowd of unwanted visitors and once everyone knows where the fountain of youth is then its all downhill from there.
3.) Cafe Mogador. This restaurant has my favorite brunch. its a Moroccan joint on St. Marks. The poached eggs are the most consistently awesome eggs I've had. They're always cooked right.
4.) The Park Slope Pavillion. It's an independent movie theater that has this super 80's interior. All the kids go their on the weekends and it's pretty fun to watch Harry Potter with a gaggle of teenagers throwing candy at the bad guys on screen. It also has this rad selection of toppings to put on your popcorn. Like garlic powder, onion powder, other powder. It's fun.
5.) The Bowery Ballroom. It's important to have a great venue to see live music at. A lot of times a normally good show can be ruined by bad sound or an overcrowded room or a really loud bar too close to the stage. The Bowery never oversells to the point of discomfort. The room fills nicely but its never uncomfortable. I really dig this so i can get down when the time comes. They do have a bar in the music hall, well two actually, but they aren't obtrusive by any means, and the sound is really great there. Last show I went to was Do Make Say Think and it was great. They sounded so good and performed so well. The biggest part of that is because they're a great band, but it definitely helps to see a great band in great room.
Related: Previous artist's contributions to the Off The Record series….

Download:
MP3: Akron/Family :: Gone Beyond
———
Pre-order: Akron/Family – Love Is Simple

www.akronfamily.com ++ www.myspace.com/akak ++ emusic

+ Download Akron/Family via eMusic's 25 free MP3 no risk trial offer
——————————————————————————————————————————
+ Visit The Hype Machine for additional Akron/Family MP3s