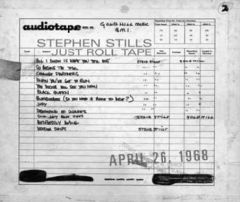 As an absolute huge fan of Stephen Stills' late sixties and early seventies output (ever heard Mannasas!?) the news of a, recently unearthed, mass of previously unreleased demos from '68 immediately piqued my curiosity.
While his sometime bandmate/friend/arch-rival, Neil Young, gets most of the critical accolades these days (and rightfully so), thirty five years ago, Stills was right up there with 'ol Shakey, both in terms of creativity and a consistently solid prolific output.
The story behind Just Roll Tape goes that back in 1968 (April 26th to be exact), Stills was hanging out in a recording studio, in New York, with his former girlfriend, the folk-singer, Judy Collins (see nameseke: "suite: judy blue eyes"), as she laid down tracks for her upcoming album. After the session, Stills convinced the engineer to let him record a batch of new demos that would go on to flesh out album by CSN, and Stills' solo records.
Caveat Emptor: This is most definitely not for those who hate rough, unproduced, recordings. The tape, at times, warbles and hisses, as does Stills voice and guitar, but for those with an ear, captured within are the seeds of greatness.
Check out the rough demos below of "Suite: Judy Blue Eyes," "Treetop Flyer," and the final studio version of "Treetop Flyer" that would not be released until 1991's Stills Alone LP.
Elsewhere: Stream the album on Still's website…

Download:
MP3: Stephen Stills :: Suite: Judy Blue Eyes
MP3: Stephen Stills :: Treetop Flyer
—
MP3: Stephen Stills :: Treetop Flyer (Stills Alone version)
———
Amazon: Stephen Stills :: Just Roll Tape: April 26th, 1968
* * * * * * * * * * * * * * * * * * * * * * * * * * * * * * * * * * * * * * * * * * * * * * * * * * * * * * * * * * * * * * *
Related: David Crosby & Graham Nash Live @ The BBC performing "Guinevere"
+ Download your music DRM free through eMusic's 25, no risk, Free MP3 offer.
—————————————————————————————————————————–
+ Find Additional Stephen Stills MP3s at The Hype Machine