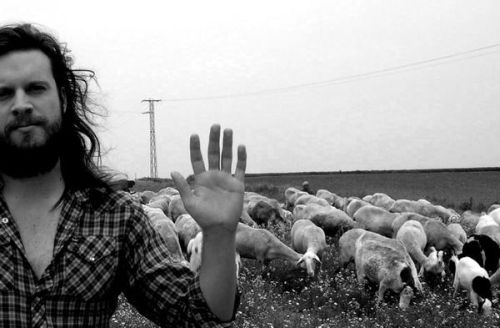 Off The Record is a recurring, feature here on the Drunkard that marries two of my greatest interests; music and travel. Having a locals perspective when visiting a new locale is the difference between experiencing it through the lens of a tourist and of that of a native.
Off The Record gathers some of my favorite artists, asks them to reflect on their city of residence, and choose a handful of places they could not live without, be them bookstores, bars, restaurants or vistas.
Today we step inside the microcosm of J. Tillman's Seattle. Tillman's poignant, rough hewn, acoustic-folk has been an A.D. favorite since the early '06 release of his Long May You Run LP. Tillman's latest LP (the excellent) Cancer And Delirium was released on the Yer Bird label, last Spring, and can be purchased here. Look for Tillman to tour the U.S. in December, with a few scattered dates in the Seattle area this Fall.
* * * * * * *
1) Burke-Gilman Trail – The Burke-Gilman is a thirty year old bike trail that runs through the University District, Fremont and Ballard neighborhoods, all along the canals, sounds and other sundry bodies of water found in Seattle. I join up with the trail after my ride down Capitol Hill (which affords me some views of the downtown skyline across Lake Union) after crossing the University Bridge, which runs over the Portage Bay. Focusing on how beautiful and unique (with its drawbridges, industrial ports, and abundant greenery) the city you live in is makes it easy to take your mind off the neon-spandex clad enviro-yuppies shooting you daggers for riding too slow without a helmet.
2) Cafe Allegro – This place has been selling bumper stickers that say "Where the hell is Allegro?" for the past 20 years. Tucked away in an alley, a few blocks away from the University District apartment building where I used to live, Allegro is infuriatingly overlooked in the cavalcade or Seattle cafes. The usual clientele, aside from a choice core of crazies (see also: aging hippies) are students and old men mostly just keeping to themselves. They have terrible live acoustic music on the weekends, don't pull "ristretto" shots, and I'm pretty sure I've never heard any of the employees refer to themselves as a "barista."
3) Hardwick's Swap Shop – Hardwick's is the type of hardware store every neighborhood should have. And every hardware store should have a guy who works the register who also happens to be a Ben Franklin impersonator on the weekends just like Hardwick's has. I've bought tape measures, dishware, clothes, furniture, keychains, a few power-drills and a router for work here.
4) St. Mark's Cathedral – Every Sunday night around 9, St. Mark's on Capitol Hill has a Compline service where the men's choir sings ancient "nighttime prayers". You can lie on the floor of this gigantic cathedral and alternate thoughts between the beauty of reverence and the bizarre parody of Egyptian myth and ancient astrology that is Christianity.
5) Bop Street Records – This place has everything and is located in the perfect spot; the Ballard bar-trifecta of Hattie's Hat, Tractor Tavern, and the Smoke Shop.
Related: Previous artist's contributions to the Off The Record series….

Download:
MP3: J. Tillman ::When I Light Your Darkened Door
MP3: J. Tillman ::Evans and Falls
MP3: J. Tillman ::Ribbons of Glass