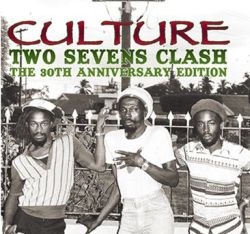 "Joseph Hill had a vision of 1977 as a year of judgment — when two sevens clash — when past injustices would be avenged. " – Two Sevens Clash (liner notes)
Previously plagued with dubious sound quality, Culture's Two Sevens Clash LP, from 1978, saw its re-release last month via the Shanachie label. Besides the cleaned up audio, the 30th Anniversary Edition has new (if a bit awkward) packaging complete with notes and photos, plus a bunch of additional tracks. More so than a lot of the reggae that made its way from Jamaica into Western audiences living rooms, these jams are heavy on the hardcore Rastafarian vibe…
I thought critic Jo-ann Greene nailed the nuances of the album here: "Clash is filled with a sense of joy mixed with deep spirituality, and a belief that historical injustice was soon to be righted. The music, provided by the Revolutionaries, perfectly complements the lyrics' ultimate optimism, and is quite distinct from most dread albums of the period. Although definitely rootsy, Culture had a lighter sound than most of their contemporaries."
Elsewhere: Two Sevens Clash is available at eMusic, just note that it is the original '70s version, sans bonus tracks.   Update: They have the 30th Anniversary Edition.

Download:
MP3: Cuture :: Two Sevens Clash
MP3: Cuture :: Get Ready to Ride the Lion to Zion
——-
Amazon: Cuture – Two Sevens Clash: 30th Anniversary Edition
* * * * * * * * * * * * * * * * * * * * * * * * * * * * * * * * * * * * * * * * * * * * * * * * * * * * * * * * * * * * * * * * *
Trojan Records 40th Anniversary :: Johnny Greenwood Is The Controller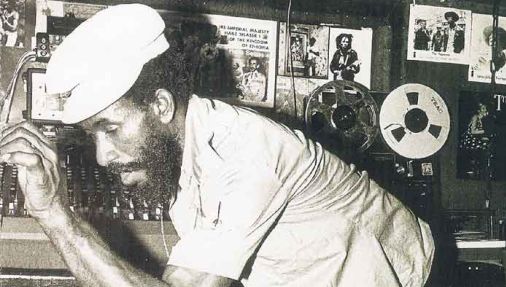 For the second installment of the Trojan Records 40th anniversary giveway, I wanted to revisit the excellent Trojan compilation curated by Radiohead's Johnny Greenwood, enititled Johnny Greenwood Is The Controller.
Throughout the next four weeks we will be giving away one classic title, per week, from the Trojan archives. Each week one winner will receive the record featured that week (i.e. Johnny Greenwood Is The Controller) plus 5 other titles from the Trojan 40th Anniversary campaign, Trojan pins, a turntable mat, backpack, etc. Check back weekly for updates.
To get your hands on this stuff: Leave you name, a valid email address, and your favorite Radiohead moment, live, in the studio, whatever, in the comments. The winner will be alerted (via email) a week from today.
– – – – – – – – – –
Mixtapes and compilations, curated by artists I admire, have always appealed to me in a voyeuristic/curio type of way. For the music junkie, it's a little bit akin to peering into a sliver of ones soul. Jonny Greenwood, of Radiohead acclaim, sees his reggae/dub compilation drop this week on the Trojan/Sanctuary label.
For those appreciative/interested in "classic" era reggae and dub, Is The Controller will be a very welcome addition to your collection. The tracks were culled from the Trojan label's extensive archives, and Greenwood states in the liner notes he listened to nothing but Jamaican reggae and dub prior to their selection. Die hard connoisseurs, who, inevitably, will be familiar with many of the artists and tracks, will certainly find new inspiration in the track-listing and mix.
The comp is part of the Trojan label's 40th anniversary celebration which will also saw the recent compilation curated by Super Furry Animals, Fatboy Slim and others.
Download:
MP3: Lee Perry :: Black Panta
MP3: Delroy Wilson :: This Life Makes Me Wonder
————
Amazon: Johnny Greenwood Is The Controller
+ Visit The Hype Machine for additional dub/reggae MP3s
——————————————————————————————————————————–
+ Download your music DRM free via eMusic's 25 Free MP3 trial offer.