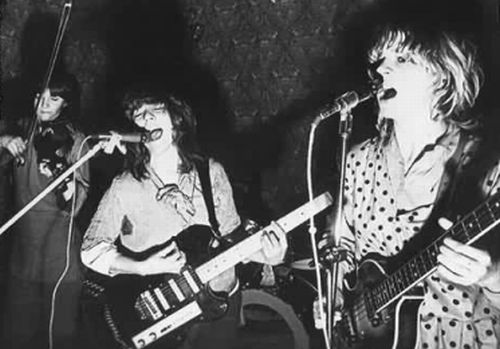 Considering the amount of artists their brief career inspired, and influenced, The Raincoats (1979) debut is an album that criminally goes in and out of print far too often. Rough Trade's 2003 reissue, for example, quickly vanished from record stores years ago, and an Amazon seller presently lists a used copy being sold for $60.00. Quirky, minimalist, and primal, The Raincoats grew out of the seeds of the late '70s UK punk movement crafting a sound all their own.
Younger fans (AD included) got turned onto the band, like the Vaselines, in the early '90s via Kurt Cobain's near constant references to them in interviews. The story goes Cobain "went into the Rough Trade Shop in Talbot Road, London in search of a new copy of The Raincoats and Jude Crighton sent him round the corner to see Ana da Silva at her cousin's antique shop. Cobain wrote passionately about this meeting in the liner notes of Nirvana's Incesticide album." (via)
Below: Listen to The Raincoats cover of The Kinks "Lola" and "Fairytale In The Supermarket." both off their 1979 debut.
Related: Yellow Fever :: The Culver City EP
Download:
MP3: The Raincoats :: Lola (kinks cover)
MP3: The Raincoats :: Fairytale In The Supermaket
———–
Amazon: The Raincoats – S/T (Import)
+ Download DRM free artists through eMusic's 25, no risk, Free MP3 offer.
—————————————————————————————————————————