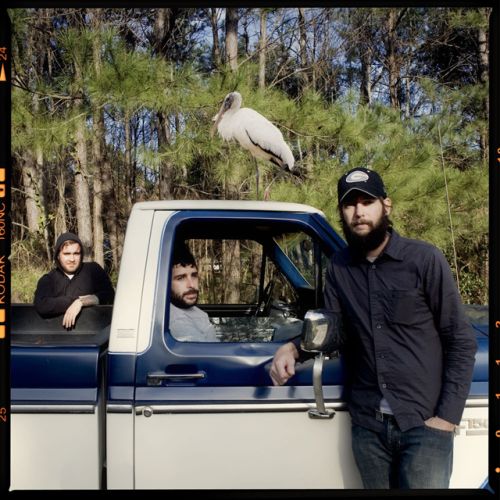 Last year, Band of Horses re-located to Ben Bridwell's native South Carolina, just outside of Charleston in nearby Mt. Pleasant. Having long resided in Seattle, the most overt influence from the move back South is the album art for the band's upcoming LP, Cease To Begin (October 9th, Sub Pop), which features a a crescent moon not unlike the South Carolina state flag.
Via Pitchfork: "Our friend Chris Wilson is visiting. I really want to get him to take a picture to recreate the South Carolina state flag in a photo for the layout of the new album. We haven't had much luck with it, but we're working on it. I totally wanna beat Hootie's ass for the most South Carolinian band ever."
"As for moving back to South Carolina this time, I've been bitching about it for so long, even near the end of the Carissa's Wierd days. I just always wanted to come back home. It was rad to get out [to Seattle] and to cut our teeth. We divided, conquered, and left. Finally got to come home and be near our loved ones in this amazing weather and have some country living. It definitely has a positive effect on the psyche."
Below: Listen to the first single, "Is There a Ghost," off the bands upcoming LP Cease To Begin. Also worth checking out is the b-side "The End's Not Near" off the "Funeral" single, and three demos off the 2005 tour EP which later made their way on to the Band of Horse debut LP, Everything All The Time.
Download:
MP3: Band of Horses :: Is There a Ghost (new)
—
MP3: Band of Horses :: The End's Not Near (The Funeral 7″)
MP3: Band of Horses :: Savannah Part One (Demo)
MP3: Band of Horses :: The Snow Fall (Demo)
MP3: Band of Horses :: For Wicked Gill (Demo)
——–
Pre-order: Band of Horses – Cease To Begin
www.bandofhorses.com ++ www.myspace.com/bandofhorses ++ emusic

+ Download Band of Horses via eMusic's 25 free MP3 no risk trial offer
——————————————————————————————————————————
+ Visit The Hype Machine for additional Band of Horses MP3s