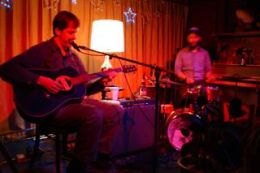 Athens, Georgia resident singer-songwriter, Jim Willingham, returns November 6th with his second LP The Captain's Table.
Recording and performing under the nom de plume Ham 1, Willingham, when not performing his duties as a schoolteacher, likes to lay down tracks with his Athens buddies…who just happen to include, but not limited to: Liz Durrett, former members of Japancakes, Rock*A*Teens, Olivia Tremor Control, and other various E6-ers.
Admittedly, it was the stellar lineup of guest players that first sparked our interest in the Ham 1 debut back in 2005 — but it was the songs themselves that had us anxiously awaiting its follow up. Two years later I can tell you it was worth the wait. As much as we enjoyed the debut, The Captain's Table marks a huge leap forward for Willingham, and his Ham 1 cadre, both stylistically and in terms of the actual songwriting itself.
Unlike the Ham 1 debut, The Captain's Table is being released via the Orange Twin label, which means you have to pay for it (you can still download songs from the Ham 1 debut, free, here). If that is the bad news, then the good news is that the new LP is worth every penny.
On Tour: Ham 1 and Liz Durrett will be on tour, opening for Vic Chesnutt, as well as acting as his backing band, throughout Sept/Oct. They are calling this the Three On The Tree tour.

Related: In other Athens new, Southern Shelter is presently hosting recorded Ath/Atl shows by: Deerhunter, Patterson Hood, Bo Bedingfield, Star Room Boys, Jason Isbell, Bloodkin, and more…

Download:
MP3: Ham 1 :: Clown Shoed Feet
MP3: Ham 1 :: Hare Lipped Bust
MP3: Ham 1 :: White Rat
——-
Pre-order: Ham 1 – The Captain's Table
www.orangetwin.com ++ www.ham1.org ++ www.myspace.com/ham1

+ Download DRM free music through eMusic's 25 Free MP3 offer.
—————————————————————————————————————————–
+ Visit The Hype Machine for additional Ham 1 MP3s.