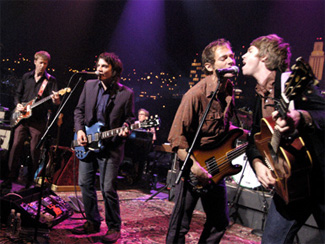 Austin, Texas: Last Saturday afternoon A.D. and co. made our way over to the KLRU Austin City Limits television studios, located on the campus of the University of Texas, for day II of consecutive ACL tapings (Friday we caught the Arcade Fire taping, see reviews here, here, and here). But Saturday was the main event — Saturday was Wilco.
Now, I don't know about you, but I've been watching this show on PBS since I was a wee lad growing up in Atlanta. Its televised images of Willie Nelson and other Country and Folk legends, broadcasted "live" from the ACL studios, have long been burned into memory. This being so, taking in one of the tightest acts working today (at arguably the peak of their live powers) was no doubt the crowning performance of my time in Austin this go 'round.
If anyone in the audience, prior to Wilco taking the stage, was not yet a fan of their new LP, Sky Blue Sky, I'd wager by the end of the band's hour and half set, that more than a few were fully converted. Sitting (literally) twelve or so feet from the stage, to Nels Cline's right, gave the new material much more immediacy than I would have expected. While I'd been playing the new jams fairly consistently since its release, I was in no way prepared for the album's live work up. This was the stuff of Alchemy, and Tweedy led the way. Kotche's hypnotic, unearthly sense of polyrhythmic instincts, and Nels' idiosyncratic individual textures cannot be understated. Can you tell I enjoyed it?
Not only did the band dig into to the most recent two records, but Yankee Hotel Foxtrot and Summerteeth were both given more than a couple winks. The cacophony in the middle of Summerteeth's "Via Chicago" left many slack jawed, and rightly so. But the most surprising artifact to grace the setlist was the unearthing of A.M's "Too Far Apart." Even Tweedy quipped something to the effect of "anyone heard this album?" Unfortunately, while the full band arrangement sounded great, Tweedy missed the his falsetto notes at the song's end, so don't expect to catch the song when it airs this November.

Download:
MP3: Wilco :: You Are My Face
MP3: Wilco :: Too Far Apart
——-
www.wilcoworld.net ++ www.myspace.com/wilco ++ www.wilcobase.com
+ Download tunes via eMusic's 25 Free MP3 offer.
————————————————————————————————————————-
+ Visit The Hype Machine for additional Wilco MP3s.