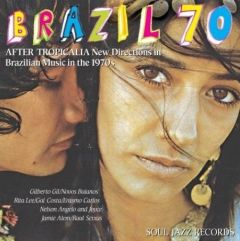 Boom. The Soul Jazz label (gladly) continues to take our money — this time it's in the form of Brazil '70, the follow up to last years Tropicalia :: A Brazilian Revolution in Sound compilation.
Released (stateside) September 18th, Brazil '70 is dripping with the kind of humid, Latin, soul, funk, and jazz groves that so permeated the early seventies scene.
It's the nuances surrounding the music that the liner notes shed the most light on — an excerpt: "Brazil 70 follows Brazilian music in the aftermath of Tropicalia as the country's dictatorship entered its most oppressive phase…With the constant threat of imprisonment, artists nevertheless managed to produce radical music that, like Tropicalia before it, managed to deal with questions of identity, sexuality and society in a revolutionary manner"
Also worth mentioning, if you hadn't heard, is that as of a few months ago the Soul Jazz catalog went digital. So, for those you stateside, not wanting to pay those import prices at your favorite record store, you can now get your download on.
Below: Sample two of the Brazil '70tracks, and also be sure to check out the re-posted Tropicalia :: A Brazilian Revolution in Sound details (and MP3s) below.

Download:
MP3: Secos e Molhados :: Amor
MP3: Caetano Veloso :: Joia
———
Amazon: Soul Jazz Records Presents Brazil '70

* * * * * * * * * * * * * * * * * * * * * * * * * * * * * * * * * * * * * * * * * * * * * * * * * * * * * * * * * * * * * * * * *
Previously: Tropicalia :: A Brazilian Revolution in Sound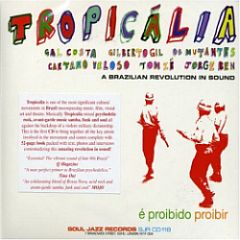 Through my father's collection I inherited a formidable amount of out-of-print and rare Latin jazz, Latin soul, and salsa on vinyl. One day I will get around to ripping some of it to MP3 format to share on the Drunkard, but until then, a number of key artists, and tracks, are captured on the Soul Jazz label's 2006 compilation Tropicalia :: A Brazilian Revolution in Sound.
Under twenty dollars the comp rounds up a who's who of the Brazilian scene in the late '60s. Consider this collection a South American Nuggets — exposing this music to, and inspiring, a whole new generation. Like underground late '60s french and Vietnamese rock/pop compilations, Tropicalia is a fascinating look at the melting pot of American pop and rock influences as heard through a foreign lens.
Also of note, Tom Ze released a great album via Luaka Bop last year entitled Estudando o Pagode that is well worth checking out if a Ze fan, and/or, Tropicalia enthusiast.
DOWNLOAD:
MP3: Caetano Veloso :: Alfomega
MP3: Tom Ze :: Jimmy, Renda-Se
–––-
Amazon: Tropicalia: A Brazilian Revolution in Sound
+ Download tropicalia artists through eMusic's 25 Free MP3 offer.
————————————————————————————————————————–
+ Visit The Hype Machine for additional Tropicalia MP3s.